How Many 2022 Gubernatorial Incumbents Will Fall in Primaries?
The last time three governors lost their party's nomination in a single cycle was in 1954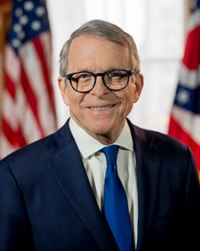 With the battle for Georgia's GOP gubernatorial nomination heating up following former U.S. Senator David Perdue's decision this week to challenge Governor Brian Kemp, the list of incumbents – mostly Republicans – who will face more than token challengers during the 2022 primaries grows longer.
It has been a rarity in recent decades for more than one governor to lose a renomination bid – it's happened only twice during the last 40 years – a span of 20 midterm and presidential election cycles.
In 1994, Rhode Island Democrat Bruce Sundlin was defeated by state Senator Myrth York and elevated South Dakota Republican Governor Walter Miller lost to former two-term Governor Bill Janklow.
In 2004, Missouri Democrat Bob Holden lost his renomination bid to Auditor Claire McCaskill and elevated Utah Republican Olene Walker was defeated at convention by eventual primary winner and former U.S. Ambassador to Singapore Jon Huntsman.
Meanwhile, multiple midterm (1990, 1998, 2002), and presidential (1984, 1988, 1992, 1996, 2000, 2008, 2012, 2016, 2020) election cycles have passed with zero incumbents falling short in winning their party's nomination.
There is not only a chance that two governors could lose their primary next year, but perhaps even more.
In addition to Kemp in Georgia, other incumbent nomination bids to watch include:
Elevated Rhode Island Democrat Daniel McKee, whose opponents include Secretary of State Nellie Gorbea and Treasurer Seth Magaziner
Idaho Republican Brad Little, whose list of challengers includes Lieutenant Governor Janice McGeachin with whom he has endured several high profile spats
Ohio Republican Mike DeWine (pictured), who is being challenged from his right by former U.S. Representative Jim Renacci
South Dakota Republican Kristi Noem, who recently drew state Representative and former House Speaker Steve Haugaard as an opponent
Elevated New York Democrat Kathy Hochul, who is facing several opponents including Attorney General Tish James [Note: James withdrew after the publishing of this report. However U.S. Representative Thomas Suozzi and New York City Public Advocate Jumaane Williams remain i the race, and New York City Mayor Bill de Blasio has filed paperwork for his campaign].
Alabama Republican Kay Ivey, who will see her reelection prospects complicated when former U.S. Ambassador to Slovenia (and reported Donald Trump endorsee) Lynda Blanchard ends her U.S. Senate campaign and formally announces her run for governor
Alaska Republican Mike Dunleavy, who is being challenged from the right by freshman state Representative Christopher Kurka
It has been 67 years since the last time three incumbents were defeated in their quest for another term.
The 1954 cycle saw Arkansas Democrat Francis Cherry lose to former state Highway Commissioner Orval Faubus, Florida Democrat Charley Johns defeated by state Senator LeRoy Collins, and Wyoming Republican Clifford Rogers fall to attorney Milward Simpson.
Over the last 100 years, the largest number of governors who lost their party's nomination was five – occurring twice:
1926: Democrats Tom Terral of Arkansas and Miriam Ferguson of Texas and Republicans Friend Richardson of California, Alex Groesbeck of Michigan, and John Winant of New Hampshire
1932: Democrats George Hunt of Arizona and Ross Sterling of Texas and Republicans Roland Hartley of Washington, Philip La Follette of Wisconsin, and Alonzo Clark of Wyoming
Since 1922, there have been 80 governors who were defeated via primary (or convention) compared to 189 who lost in the general election.
However, governors lost renomination at more than twice the rate during the 50-year span from 1922 to 1971 (59 of 511 attempts, 11.5 percent) compared to the 50 years since 1972 (21 of 391 attempts, 5.4 percent).
The lowest gubernatorial renomination rate in midterm election cycles since 1922 is 77.8 percent – recorded in 1922 and 1930 (with four of 18 incumbents losing primaries in each of these cycles).
Follow Smart Politics on Twitter.