How Often Do Governors Get Elected to At-Large US House Seats?
Sarah Palin is contemplating a bid that could add her name to a short list in the annals of U.S. elections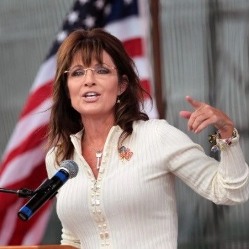 Following the death of long-serving Alaska Republican U.S. Representative Don Young last week, several notable names are readying their campaigns for the special primary election to be held on June 11th from which the top four candidates will move on to the August special.
Perhaps the biggest name who has floated a potential bid is former governor and 2008 GOP vice-presidential nominee Sarah Palin.
Palin last served in elected office in July 2009 when she resigned during the third year of her governorship.
If Palin decides to run and is elected she would become just the 10th ex- or sitting governor – and only the fifth since the 1900s – to win election to the U.S. House from a state with just one at-large seat.
More than half of the states – 30 in total – have been represented by a lone at-large U.S. Representative at some point during their history; some states for just a few years and some for several decades.
Twenty-two of these 30 states have never elected a sitting or former governor as their single representative in the U.S. House: Alabama, Alaska, Arizona, Colorado, Florida, Hawaii, Idaho, Illinois, Kansas, Louisiana, Michigan, Mississippi, Missouri, Montana, Nebraska, New Mexico, North Dakota, Ohio, Rhode Island, Tennessee, Utah, and Washington.
The most recent at-large U.S. Representative to have previously served as governor was South Dakota Republican Bill Janklow.
Janklow served four interrupted terms as governor (1979-1987; 1995-2003) before defeating Stephanie Herseth by 7.8 points in the 2002 open seat race for the at-large seat.
Three other governors went on to win at-large U.S. House elections during the 20th Century:
Nevada Democrat James Scrugham had six years between his governorship (1923-1927) and his U.S. House service (1933-1942). [Scrugham would win election to the U.S. Senate in 1942].
Vermont Republican Robert Stafford was at the end of his two-year term as governor (1959-1961) when he won the first of five elections to the U.S. House (1961-1971). [Stafford would then win three terms to the U.S. Senate].
Delaware Republican Mike Castle served eight years as governor (1985-1992) before directly moving to the U.S. House where he won nine terms (1993-2011) before a failed U.S. Senate bid
Five ex- or sitting governors were elected to at-large U.S. House seats during the 19th Century:
Indiana's first statehood governor, Democratic-Republican Jonathan Jennings, served two terms (1816-1822) and then won a special election to the U.S. House in 1822 at the tail end of the period in which Indiana held only one seat in the chamber
Arkansas Democrat Archibald Yell's gubernatorial service (1841-1845) was bookended by representing the state in the U.S. House as its lone delegation member (1836-1839, 1845-1846)
Delaware's William Temple had a long pause between his partial term as an elevated Whig governor (1846-1847) and as an elected Democratic U.S. Representative (1863-1863)
Similarly, Oregon's first statehood governor, Democrat John Whiteaker, saw 17 years pass between his governorship (1858-1862) and his single term in the U.S. House (1879-1881). [Whiteaker served in the state legislature for several years in between].
Wyoming Democrat John Osbourne won his U.S. House seat (1897-1899) just two years after his governorship ended (1893-1895)
Nearly 20 at-large officeholders won election to the U.S. House prior to becoming governor including three current officeholders: Delaware Democrat John Carney, South Dakota Republican Kristi Noem, and Montana Republican Greg Gianforte.
While Palin may not be as popular in Alaska as she was when she won the governorship with a 48.3 percent plurality after knocking out incumbent Frank Murkowski in the 2006 GOP primary, it is difficult to imagine that she would not muster enough support to land in the top four in the June primary to move on to the August ballot.
Follow Smart Politics on Twitter.