Introducing the Minnesota Historical Candidate Biographical Database
A play with a cast of thousands – heroes and villains and the spotlight shining a little more on the extras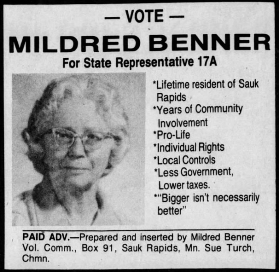 Smart Politics announces the launch of the Minnesota Historical Candidate Biographical Database – a first-of-its-kind resource that centralizes key biographical data in a searchable format to facilitate research by county historical societies, citizen researchers, journalists, and educators on all candidates and nominees who have run for state and federal office in Minnesota history. Not just the winners, but also those who came up short.
The Biographical Database is built into the Minnesota Historical Election Archive – the largest collection of searchable Minnesota election data, assembling the returns of more than 20,000 elections across 17 different federal and state offices since 1858. The Archive is also curated by Smart Politics.
More than a dozen variables were used to create the candidate biographies, with sources listed on each candidate's profile page. More than 10,000 biographies are already live on the site with dozens more being added each week.
In addition, more than 6,000 images of candidate photos and print campaign advertisements have been uploaded to the database.
The Forgotten
While the background of some Minnesota politicians are well-known (e.g. Hubert Humphrey, Walter Mondale), the stories of many have been lost to history. In fact, the losers of Minnesota elections outnumber the winners by as many as 10:1 for several offices.
To put into perspective the scale of losing versus winning candidates, consider the following: since statehood, there have been 1,513 men and women who have appeared on a Minnesota primary, special, or general election ballot to the U.S. House of Representatives. Just 144 have been victorious. The defeated outnumber the winners by more than 10 to 1.
Similar ratios can be seen in elections for Minnesota U.S. Senator (367 ran, 38 elected), Governor (374 ran, 40 elected), and Secretary of State (214 ran, 21 elected) plus several other offices.
Many of these candidates – particularly during the 19th and early 20th Centuries – were important local leaders, business owners, judges, or prominent farmers who simply came up short in their bids for state or national political prominence. Their professional accomplishments and forays into politics have often been forgotten and this Database shines a light on their campaigns and lives.
Some stories are rather quaint:
Tragically, multiple candidates and officeholders were later institutionalized or committed suicide. Others were murdered including:
Democratic State Representative John D. Smith of Inver Grove Township (1866-1867) who was killed from a blow to the head while driving his wagon full of wood to St. Paul in 1878.
Republican State Representative Charles E. Stacy of Farmington (1878-1881) who was beaten by a highwayman and knocked off his horse and died in 1881.
Conservative Caucus State Representative (1941-1943) and Senator (1943-1959) Ralph Mayhood of Minneapolis who was beaten to death in 1978 at a rooming house where he was a slumlord. The property was condemned less than a week after his murder.
Some candidates built up quite a resume over their lifetime:
Gustaf Youngquist: The Polk County Republican did not serve long as state Attorney General (February 1928 to November 1929), but resigned to work for the Department of Justice and became an Assistant U.S. Attorney General in charge of the tax division. He headed the investigation that led to the prosecution of Al Capone for income tax fraud.
Robert Kunzig: Kunzig was a prosecutor at the Nuremberg war crime trials and former Pennsylvania Deputy Attorney General. However, that resume was not quite good enough to unseat Attorney General Walter Mondale in the 1962 election.
Joe Robbie: The DFL Minneapolis attorney launched two failed attempts to unseat 5th CD U.S. Representative Walter Judd, but landed on his feet as sole owner of the Miami Dolphins football franchise from 1965 to 1990.
But not all little-known candidates were diamonds in the rough. Here are a few such snapshots of 'colorful' Minnesota candidates:
County Data
To facilitate research at the county level, the Database has also added search capabilities for candidates by their (Minnesota) county of birth or residence.
Individual county pages include information highlighting:
Notable candidates born in or residing in that county at the time of their campaign
Summary tables of U.S. House, State Senate, and State House district numbers corresponding to each congressional and state legislative redistricting period since statehood
The first 10 (alphabetically) candidates born or residing in the county
Links to filter the database for a list of all county native and resident candidates
The goal of the Biographical Database is to generate greater interest in and further educate the public about Minnesota's rich political and electoral history through the lens of the men and women who have run for public office.
The Candidate Database and the Minnesota Historical Election Archive are curated by Dr. Eric Ostermeier, Smart Politics founder and author and Research Fellow at the Humphrey School of Public Affairs.
Among the many features of the Candidate Database is the inclusion of hundreds of links to related reports about the candidates published at Smart Politics over the last 17 years. Smart Politics will periodically highlight the stories of these candidates in reports published on this site.
The Minnesota Historical Candidate Biographical Database has been financed in part with funds provided by the State of Minnesota from the Arts and Cultural Heritage Fund through the Minnesota Historical Society.
Follow Smart Politics on Twitter.