Jesse Ventura, Judge Tunheim to Review JFK Assassination Evidence at Humphrey School Event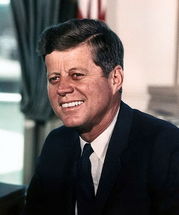 On Tuesday afternoon, the University of Minnesota's Humphrey School of Public Affairs will host an event discussing the evidence of the President Kennedy assassination on the 48th anniversary since the shooting.
Panelists will include Judge John Tunheim, who chaired the recent declassification process of CIA and FBI files on the investigation and former Minnesota Governor and Conspiracy Theory host Jesse Ventura.
Ventura has intensely studied the assassination and is of the view that the CIA was involved in the events in Dallas, Texas 48 years ago.
Below is the press release for the event from the Humphrey School's Center for the Study of Politics and Governance:
Who Killed President Kennedy? A Review of Evidence
Tuesday, November 22, 2011
12:00 P.M. – 1:15 P.M.
Cowles Auditorium
Humphrey School of Public Affairs
301 19th Ave S., Minneapolis
November 22nd marks the 48th anniversary of President John Kennedy's assassination, a topic of continuing intense interest. Recently, the government opened up its files from the CIA and FBI on what it discovered about the assassination. Judge John Tunheim chaired that declassification effort and is one of the premier experts on the evidence regarding Kennedy's assassination. Another Minnesotan, former Governor Ventura, has extensively studied the events associated with the Kennedy assassination and is one of the leading proponents of the view that the CIA was behind the assassination.
Join us for a lively discussion as Judge Tunheim and Governor Ventura review the evidence and try to settle who killed the President and how. The forum will be moderated by Professor Larry Jacobs.
Judge John R. Tunheim has served for more than 11 years as a United States District Judge since taking his oath of office on December 29, 1995. Tunheim served as chairman of the U.S. Assassination Records Review Board, an independent federal agency responsible for reviewing and facilitating public disclosure of previously classified government records related to the assassination of President John F. Kennedy.The review board completed its very successful work on September 30, 1998, presenting its Final Report to President Clinton and establishing a legacy of more than four million pages of materials concerning the assassination now available to the public at the National Archives in College Park, Maryland. Tunheim is an alumnus of Concordia College in Moorhead, Minnesota and a 1980graduate of the University of Minnesota Law School where he served as president of the Minnesota Law Review.
Governor Jesse Ventura is an American politician and served as the 38th Governor of Minnesota from 1999 to 2003. He is a Navy Seal veteran, former professional wrestler, actor, author, and former radio host. Ventura has several books published, including Do I Stand Alone? (2000) and Don't Start the Revolution Without Me! (2009). He is currently the host of Conspiracy Theory on TruTV network. The show examines various conspiracy allegations involving controversial subjects including the assassination of President John F. Kennedy.