The Largest Democratic US House Winning Streaks in Each State
In 2022, Massachusetts Democrats are poised to climb to 8th on the all-time list with 137 straight victories, passing two Southern states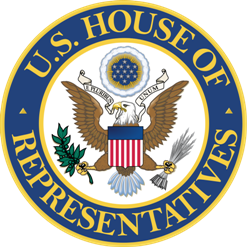 While Democrats brace for a midterm pushback and arguably, a net loss of seats to the chamber due to gerrymandering in the battle to control the U.S. House during the 118th Congress, one well-populated state where the party is seemingly insulated from both trends is Massachusetts.
The Bay State approved its new congressional maps in late November which saw little change in the partisan tilt of any of its nine CDs as all nine incumbents suit up to run for another term this year.
Massachusetts Democrats currently own the longest and largest active U.S. House winning streaks for the party at 128 consecutive victories since 1996.
That is good for the 10th biggest statewide streak in the nation in Democratic Party history – and the largest outside of the South, where Democrats enjoyed effective one-party rule for generations in some states.
Democrats in Massachusetts eclipsed the party's 99-seat winning streak in Virginia (1932-1950) after the 2016 election and all signs are they will pass North Carolina (132 in a row, 1930-1950) and Florida (136, 1884-1952) this November when a clean sweep brings the state tally to 137 consecutive seats.
The last time Massachusetts Democrats lost a U.S. House seat was 30 years ago in 1992 when nine-term incumbent Joseph Early was defeated in the 3rd CD by GOPer Peter Blute and seven-term Congressman Nicholas Mavroules lost in the 6th CD to Republican Peter Torkildsen. Both of these two GOPers held their seats during the 1994 cycle.
Since then, Democrats have reeled off 128 consecutive victories in general and special elections conducted from 1996 through the 2020 cycle.
The current streak in Massachusetts is more than triple the amount tallied in any state across the Northeastern, Western, and Midwestern regions of the country with the next closest coming in neighboring Rhode Island where Democrats swept all 41 U.S. House races for a 38-year period from 1940 through 1978.
Only four other states outside of the South have tallied Democratic U.S. House winning streaks of at least 30 consecutive elections: Maryland (note: still categorized as a Southern state by the U.S. Census) at 40 in a row (1930-1941), Connecticut at 35 (2008-present), New Mexico at 33 (1930-1966), and Washington at 30 (1932-1940).
Four other non-Southern states have seen Democrats record 20+ wins in a row to the chamber: Missouri with 27 (1836-1848), Arizona with 27 (1911-1950), Hawaii with 23 (1956-1986 and 1990-2008), and New Hampshire with 22 (1836-1844).
Georgia holds the all-time party record with Democrats winning 410 straight U.S. House seats in elections conducted from 1892 through 1962.
That mark came to an end in 1964's open seat race in the 3rd Congressional District, where future Army Secretary Bo Callaway defeated former Lieutenant Governor Garland Byrd by 14.5 points.
Alabama is next with 313 straight Democratic victories (1900 through 1962) followed by Mississippi at 294 (1884-1962), Arkansas at 258 (1890-1964), South Carolina at 245 (1896-1964), Louisiana at 225 (1918-1970), and Texas at 198 (1931-1948).
[Note: The records in Georgia and Arkansas include the election of an independent Democrat in 1910 (Samuel Tribble, who also claimed to have the party's nomination) and a write-in Democratic candidate in 1958 (Dale Alford) respectively].
In addition to Massachusetts and Connecticut, Vermont Democrats also currently hold their biggest winning streak in party history – a modest eight straight victories to the state's at-large seat since 2006 after independent Bernie Sanders decided to run for the U.S. Senate.
Democrats in New Hampshire have swept the last three election cycles for a tally of six in a row, which is their best feat in more than 175 years since the party won 22 in a row from 1836-1844.
Delaware Democrats are also in the midst of their second largest U.S. House winning streak at six straight elections since 2010 – still a few cycles shy of the party record 10 in a row from 1874-1892.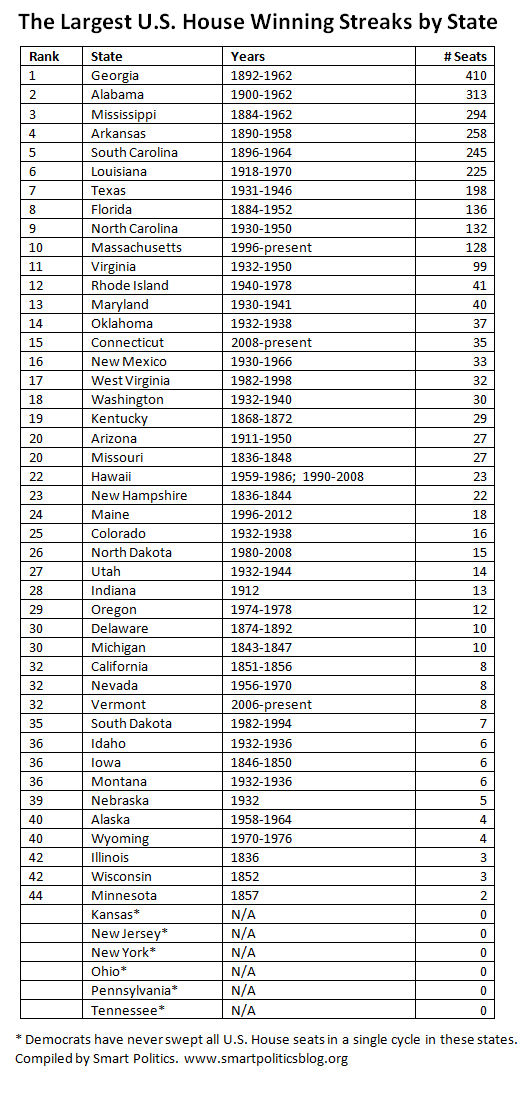 The Democratic dominance in Massachusetts U.S. House elections is eye-opening. Republicans have come within single digits of winning a U.S. House seat just seven times during these 128 straight Democratic victories since 1996:
1996 (MA-01): Three-term Congressman John Olver by 5.5 points over State Senator Jane Swift
1996 (MA-03): Jim McGovern by 7.6 points over two-term Congressman Peter Blute
1996 (MA-06): John Tierney by 0.1 points over two-term Congressman Peter Torkildsen
2007 (MA-05, special): Niki Tsongas by 6.2 points over Jim Ogonowski
2010 (MA-10): Norfolk District Attorney Bill Keating by 4.5 points over state Representative Jeffrey Perry
2012 (MA-06): Eight-term Congressman John Tierney by 1.2 points over former state Senator Richard Tisei
2014 (MA-09): Two-term Congressman Bill Keating by 9.9 points over John Chapman
Republicans have lost these 128 races by an average of 59.6 points with the GOP failing to even field a candidate in 56 of them, or 43.4 percent.
Democrats have never swept all U.S. House races in a single cycle in just six states: Kansas, New Jersey, New York, Ohio, Pennsylvania, and Tennessee.
Follow Smart Politics on Twitter.