Blake Masters and a History of Retread Arizona US Senate Candidates
Nine losing major party Arizona U.S. Senate candidates have made 12 subsequent bids for the office – falling short in all 12 attempts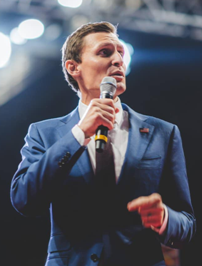 In the coming days, Arizona Republican Blake Masters is expected to join the state's intriguing 2024 U.S. Senate election field.
The race features Democrat-turned-independent incumbent Kyrsten Sinema (who has filed paperwork but has not officially announced her intentions), U.S. Representative Ruben Gallego seeking the Democratic nomination, and what is likely to be a contested GOP primary with high profile MAGA superstar and 2022 gubernatorial nominee Kari Lake among the possible candidates.
Masters' announcement has been expected for some time, and when he files he will attempt to record a first in Arizona's electoral record books.
Across Arizona's 38 general and special U.S. Senate elections since 1914, there have been nine failed candidates for the office who have suited up a dozen times in subsequent campaigns to win a seat in the nation's upper legislative chamber.
Masters, who lost the 2022 general election to retired astronaut Mark Kelly by 4.9 points, would be the 10th such candidate – and hopes to become the first to succeed.
Democratic State Senator Charles Rutherford was the first failed U.S. Senate hopeful from the state to run again for the office. The Phoenix attorney lost the 1926 primary to U.S. Representative Carl Hayden by 60.6 points in a two-candidate race with just 19.7 percent.
In 1928, Rutherford won 22.6 percent in the primary against incumbent Henry Ashhurst. He made his third and final U.S. Senate bid in 1934, finishing last with 4.5 percent in a five-candidate race won by Ashhurst.
Six other Democrats have fruitlessly followed in Rutherford's footsteps:
Maricopa County Attorney and former state legislator Renz Jennings placed third out of five candidates with 18.5 percent in 1934's U.S. Senate race. Jennings later became an Arizona Supreme Court Justice and 30 years after his loss he ran for the Senate again in 1964 and placed second with 34.7 percent in a six-candidate field.
Phoenix druggist Robert E. Miller lost the Democratic nomination four times: in 1938 (21.2 percent – a distant second, 44.3 points behind Sen. Hayden), 1940 (3.9 percent), 1950 (11.0 percent), and 1956 (17.6 percent).
Phoenix attorney Henderson Stockton placed third in the primaries of 1940 (4.7 percent) as well as 1944 (5.4 percent).
Roy Elson, a former aide to Senator Hayden, won the Democratic nomination in 1964 and 1968 but lost general elections to Governor Paul Fannin and former U.S. Senator Barry Goldwater respectively.
Phoenix schoolteacher Stuart Starkey won the 2000 Democratic primary as a write-in candidate, but did not receive enough votes to qualify for the general election ballot. In 2004, he won his party's nomination without opposition but Senator John McCain trounced him by 56.1 points that November.
There have been three Republican retread candidates over the last 110 years including two during the last decade:
Phoenix attorney Burt Clingan won the 1938 GOP nomination without opposition en route to a 53-point loss to Senator Hayden. In 1940, Clingan lost the GOP primary – 15 points behind fellow Phoenix attorney Irving Jennings.
Political talk show host Clair Van Steenwyk of Sun City West won 5.7 percent in the open 2012 race to replace retiring Senator Jon Kyl. He received 3.6 percent of the vote four years later in what would be Senator John McCain's last renomination victory.
Former State Senator Kelli Ward ran an impressive second to McCain in 2016 with 39.9 percent but fell short in 2018 with another second place primary finish, this time to U.S. Representative Martha McSally with 27.6 percent.
[McSally lost the 2018 general election by 2.3 points to fellow U.S. Representative Kyrsten Sinema and was appointed to the U.S. Senate by Governor Doug Ducey six weeks later after the death of Senator McCain. She would then lose the 2020 special election by 2.4 points to Mark Kelly.].
Arizona's U.S. Senate primaries are less than 11 months away – scheduled to be held on August 6, 2024.
The 2022 primary won by Masters was the largest field in Arizona Republican Party history with five candidates.
Follow Smart Politics on X/Twitter.