MN State Legislative Incumbents Hold Serve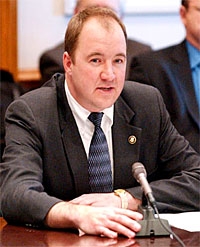 No news was good news for the four Minnesota state legislative incumbents challenged in Tuesday's primary—each of whom enjoyed a double-digit victory to move on to November's general election.
The big story was in District 12, where GOP incumbent Paul Koering survived a high-profile race in beating city councilman Kevin Goedker 55 to 45 percent. Earlier in the term Koering was the only republican to join Senate DFL-ers in an attempt to prevent a floor vote on a ban of gay marriage via constitutional amendment. A few days later Koering acknowledged that he himself was gay—becoming the only openly gay member of the GOP delegation.
The lone incumbent DFL state legislator fighting a primary battle was state Senator Dean Elton Johnson (District 13) who easily bested Michael Cruze 61 to 39 percent.
In Minnesota's State House, both republican incumbents who faced challengers won decisively. Mark Buesgens (District 35b) rolled over his opponent, Tom Rees, 78 to 22 percent. Meanwhile Neil Peterson (District 41b) beat Mark Chamberlain 67 to 33 percent.
Come back to Smart Politics for more primary election results reports.