SD Governor: History Is On Rounds' Side…Unless…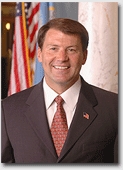 South Dakota boasts a fascinating political history, peppered at the edges with contradictions in partisan preferences among its electorate. On the one hand, democrats have more than held their own in federal congressional statewide elections, winning 9 of the last 16 US Senate races since 1960, and 9 of the 13 statewide elections held for US House since 1982 (when the state's delegation was reduced to a single at-large seat).
On the other hand, South Dakota overwhelmingly votes republican for statewide executive races. The state is a slam-dunk for the GOP in presidential elections, voting Republican in 11 of 12 elections since 1960. Republicans have also won each of the last seven gubernatorial elections dating back to 1978. In fact, only four Democrats have ever been elected to the Governor's office in the state since elections began in 1889.
With this history in mind, it is no surprise that Governor Mike Rounds is considered to have one of the few safe seats for republican incumbents in 2006. Rounds faces Democrat Jack Billion, along with candidates from the Constitution and Libertarian parties. Indeed, for most of the past year Rounds ranked as one of the most popular state executives across the nation—achieving at least a 70% approval ranking in 10 straight SurveyUSA polls from May 2005 to February 2006.
But Billion has a slight opening. After signing the state's controversial abortion ban in early 2006 (a ban that outlaws the procedure even in cases of rape and incest), Rounds' approval rating took a noticeable hit—dropping 14 points in one month (SurveyUSA, March 2006). Rounds' approval rating rose a few points in April, but it has remained in the low 60s ever since.
The lesson from this 10-point dive is that Rounds' position on abortion is even tougher than that held by the citizens of his fairly conservative state. The state's referred law on abortion will be on the ballot this November, and polls show those opposing the ban will likely prevail (although if the rape/incest provisions were removed, the law would probably pass) (KELO-TV/Argus Leader).
Whether or not Rounds' act was one of political courage perhaps depends not only on one's stance on abortion, but also on whether or not one believe Rounds would have signed the law if his approval rating were in the 50s instead of the 70s. Jack Billion has carved out his clear opposition to Rounds on the abortion issue, but he will likely need to drive at least one more wedge into the fight to make it a 10 round bout.