Klobuchar Builds Lead Over Kennedy In Latest Humphrey Poll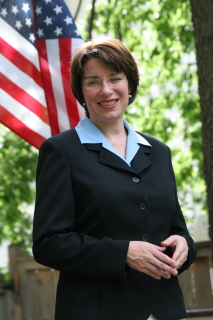 In the five weeks since the last Humphrey Institute survey, DFL nominee for Senate Amy Klobuchar has increased her lead from 52-36 to 55-33 over GOP nominee Mark Kennedy. While this 22-point lead is 3 to 7 points larger than what most polls have reported during the past month, it is consonant with a new poll just released by St. Cloud State (October 15-27), which has Klobuchar up by 25 points (56-31). Both polls show Independence Party nominee Robert Fitzgerald lagging at 3 percent.
These results reinforce the trend of a healthy double-digit Klobuchar advantage reported by most surveys throughout October: a SurveyUSA poll from October 21-23 showed Klobuchar with a 16-point lead among likely voters, an October 6-11 Minnesota Poll of likely voters had Klobuchar up 19 points, and Rasmussen surveys of likely voters on October 25th and October 4th indicated Klobuchar had leads of 15 and 17 points respectively.
Below are excerpts from the new report by the Center for the Study of Politics and Governance on its latest US Senate poll:
"With only a week before Election Day, Amy Klobuchar, the Democratic candidate for U.S. Senate, has widened her lead over her Republican opponent, Mark Kennedy, to 22 percentage points, 55 percent to 33 percent. The Humphrey Institute survey of 663 likely Minnesota voters was conducted October 23-28, 2006 and has a 3.8 margin of error.
Klobuchar's commanding lead results from three factors:
1. She has rallied Democrats and broadened her appeal to Republicans, independents and men and women while receiving lower negative evaluations than Kennedy.
2. The Senate election is setting up as a referendum on President George W. Bush, the War in Iraq, the country's direction, and Congressional ethics. A consistently negative reaction to these national personalities and conditions is boosting Klobuchar's campaign.
3. Kennedy's campaign is underperforming. This is evident in comparisons with the performance of Governor Tim Pawlenty—another Republican running in a difficult year for his Party."