When Words Become Reality: The Media Creation of Barack Obama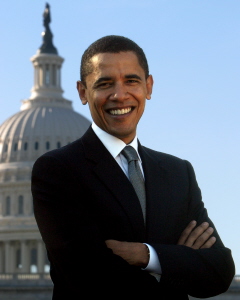 Just minutes after the Illinois State Senator's keynote address at the Democratic National Convention on July 27, 2004, media commentators and journalists began to write history by casting Barack Obama in the role of superstar, Democratic leader, and future president of the United States. Perhaps the media did not quite realize at the time that Obama, and a significant wing of the Democratic base, would take their words so seriously, as, less than two years after being elected Senator, Obama is now viewed as a threat to win the Democratic nomination.
After the speech, USA Today referred to Obama as an "emerging star" having "instantly established his credentials as a national political force."
The New Orleans Times-Picayune referenced Obama's "debut star turn," and labled him as "someone already being talked about for a future national ticket."
In The New Republic, Noam Scheiber projected Obama to be "a perennial possibility for a spot on a national Democratic ticket."
As journalistic deadlines approached that Tuesday night, reporters wrote as one, marching to the beat of the same drummer: Obama was a "rising star" (Star Tribune), "one of the Democrats' fastest rising stars" (Cleveland Plain Dealer), a "budding political star" (St. Louis Post Dispatch), and "a rising Democratic star" (Christian Science Monitor).
All these accolades for a man that, even the Post Dispatch acknowledged, had just spoken to a Democratic convention audience (let alone Americans in general) that "knew little or nothing about him."
Several journalists quickly began to make predictions about the fate of this not-yet elected Senator. The Houston Chronicle wrote, "he may well end up the first black president of the United States." A Boston Herald editorial paraphrased a line in Obama's speech thusly: "that brighter day has a name and a year: President Obama, 2016."
Perhaps the media was unaware of the power of their words, and the impatience of the American public—Democrats certainly did not want to wait until 2016 for their next star to shine. Indeed, Obama is currently polling second in (early) polls measuring Democratic support for their nominee in 2008.
Whatever future political success Obama achieves might very well spring directly from the 'uncoordinated, coordinated' media frenzy that occurred in the last week of July 2004. But let us not forget the original architect of this plan: John Kerry. For it was Kerry and his advisors who selected Obama for the 2004 convention keynote address, predicting the State Senator would give a compelling speech and become a popular, new face for the Democratic Party and his campaign. Though, if Kerry would have known just how popular, he may have made a different selection.