Klobuchar Begins Term With Strong Statewide Support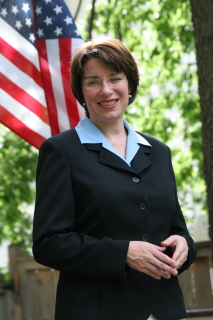 The approval ratings are in for Minnesota junior Senator Amy Klobuchar, after only a few weeks on the job in Washington, D.C. The latest SurveyUSA poll finds 56 percent of Minnesotans approve of her job performance in the U.S. Senate, with 30 percent disapproving, and 14 percent having no opinion.
This is an unusually high approval rating for a new Minnesota Senator. One month after Norm Coleman took office in 2003 he had won over just 46 percent of Minnesotans (MN Poll, February 2003). Mark Dayton likewise only had a 41 percent approval rating some three months after he was elected (MN Poll, April 2003).
But Klobuchar's negative job rating (30 percent) is also much higher than that of Coleman (11 percent) and Dayton (12 percent) early in their respective terms.
Therefore, what is most surprising about Klobuchar is the relatively low number of Minnesotans who have yet to form an opinion about her so early in her first term. Frequently it takes several months to a year for a fair portion of the senator's statewide constituency to form an opinion about that senator's job performance. Perhaps Klobuchar's high profile race with (and domination of) Mark Kennedy in last fall's campaign solidified her supporters—as well as detractors—much quicker than normal.
Note: While it is always dangerous to compare data across different pollsters (in this case SurveyUSA vs. the Minnesota Poll), in the case of this particular issue—job approval—the question wording is the same in both polls (although the methods are not: SurveyUSA uses computer-based polling; the Minnesota Poll employs human interviews).
Still, as a point of comparison, Klobuchar has a notably higher approval rating than the three other freshman Senators examined by SurveyUSA: Virginia's Jim Webb (42 percent), Ohio's Sherrod Brown (47 percent), and Missouri's Claire McCaskill (50 percent).