Franken Announces Senate Candidacy; Starts 22 Points in the Hole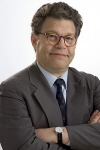 On Wednesday Al Franken officially announced his candidacy for the U.S. Senate—aiming to become the DLF nominee to challenge 1-term Minnesota Republican incumbent Norm Coleman in 2008.
As discussed in a February 2, 2007 Smart Politics entry, Franken will have an uphill battle to win both the DFL primary as well as a potential general election match-up against Coleman. An early poll released Wednesday by SurveyUSA indicates Franken begins his campaign with more than a 20-point deficit to Coleman. In a poll of 632 registered voters statewide, Coleman led Franken 57-35 in a head-to-head matchup with only 8 percent undecided.
Franken's low level of support in this poll, however, is more likely a product of the state's generally positive view of Coleman rather than an unfamiliarity with Franken or a distaste for what may be Franken's two Achilles' heels: being a comedian (and therefore not viewed as a serious candidate by some voters) and his far-to-the-left political leanings. Coleman's job approval rating has hovered between the high 40s and mid-50s throughout most of his first 4 years in office.
Attorney Mike Ciresi—who ran a solid Senate campaign in 2000 and is being mentioned as a likely DFL opponent of Franken – also only earned 34 percent against Coleman's 57 percent in the same SurveyUSA poll.
While this poll is 21-months out from Election Day, it will be interesting to see if Franken is able to chip away at Coleman's advantage this year. In July 2001 – when the 2002 U.S. Senate election was 16 months away – Coleman had narrowed the late Senator Paul Wellstone's lead to just 4 points (Pioneer Press / MPR Poll).