Norm Coleman Maintains Double-Digit Lead Over Al Franken in New Poll

One of the Democratic National Committee's most targeted U.S. Senate seats in 2008 is assuredly the one held by Minnesota Republican Senator Norm Coleman. Thus far Al Franken has emerged as the most prominent candidate to challenge Coleman in the Senator's bid for a second term.
The latest public polling results in a match-up between Coleman and Franken finds Coleman with a 10-point lead, 46-36 percent in a survey of 500 likely voters conducted on March 7th by Rasmussen Reports.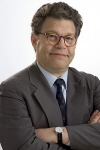 Franken's level of support is similar to the results of a poll conducted nearly a month prior by SurveyUSA, in which he garnered 35 percent. Coleman, however, registered 57 percent in that SurveyUSA poll. The largest difference between the two polls (both of which are conducted via 'automated surveys'—in which questions are asked by a computer-dialed automated recorded voice) is the number of those surveyed indicating they were 'undecided.' In the Rasmussen poll 18 percent were undecided, compared to just 8 percent a month earlier by SurveyUSA. SurveyUSA polling has a history of generating a low percentage of 'undecided' respondents; it is unclear whether or not the organization is including 'leaners' in their data.
Coleman remains relatively popular among Minnesotans, and this is reflected in the Rasmussen poll: Coleman garners a 51 percent favorability rating. In 2002 Coleman earned a favorability rating at or above 50 percent in all six surveys conducted by the Minnesota Poll.
Franken had a 39 percent favorable and 46 percent unfavorable rating in the new Rasmussen poll, with more than twice as many respondents (15 percent) indicating they had not yet formed an opinion about Franken as compared to Coleman (7 percent).