Klobuchar & Coleman Still Get High Marks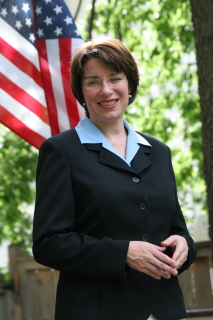 Minnesota DFL Senator Amy Klobuchar continues to garner a strong approval rating—now four months into her tenure as junior senator from the Gopher State. The most recent SurveyUSA April poll found 58 percent of Minnesotans approve of her performance. Only 34 percent disapprove, which means most state residents have now formed an opinion about Klobuchar. Just 7 percent of those polled had no opinion—half the amount (14 percent) of those polled in January 2007.
The state's senior senator, Norm Coleman is also getting good ratings from the state (53 percent approve, 41 percent disapprove). However, as Senator, Coleman has never reached Klobuchar's current 58 percent job approval mark.
It is interesting that both members of the state's Senate delegation are getting such high approval ratings, considering each has been on the opposite side of high-profile, controversial legislation concerning the war in Iraq during the last few months. Coleman's performance is particularly impressive, because a clear majority Minnesotans have been in favor of setting a timetable on troop withdrawal in Iraq as early as September 2006 (Pioneer Press / MPR poll).