Franken vs. Coleman: Clinton vs. Lazio Revisited?
When Hillary Clinton announced her candidacy for the U.S. Senate from the state of New York in the Autumn of 1999 she quickly was denounced by her political opponents as a carpetbagger—having never previously resided in New York. Ultimately, Clinton achieved a 55—44 percent victory over Republican Rick Lazio, with the vast majority of New Yorkers not viewing Clinton's 'carpetbagging' as an important factor in that Senate race.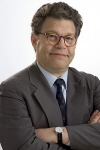 When Al Franken announced his candidacy for the U.S. Senate in Minnesota in February of this year, his political opponents began to undertake a similar exercise. However, one problem they faced was that Franken, unlike Clinton, does have ties to the state in which he is seeking to serve. Franken, though born in New York, grew up in St. Louis Park.
As such, the tactic taken by Franken's opponents has shifted to undermine the legitimacy of his Minnesota ties by examining who is donating to his Senate campaign. Right-wing blogs and the traditional media have been quick to point out that the vast majority of money raised by the Franken campaign (82 percent of the $1.9 million he raised in the 2nd Quarter of 2007) came from non-Minnesota donors. Incumbent Republican Senator Norm Coleman raised $1.5 million—with 50 percent coming from Minnesota sources.
Franken's campaign has since pointed out that he has more Minnesota contributors than does Coleman, when including those donors that do not have to be reported to the FEC (those who give less than $200).
The truth of the matter is that Franken—like Hillary Clinton—is a nationally known figure, capable of attracting donors from across the country. Through his 15 years of work on Saturday Night Live, penning three #1 New York Times bestsellers, and hosting a nationally syndicated radio show on Air America, Franken has achieved a much greater national reputation than Coleman and fellow DFL contender Mike Ciresi.
Thus, Franken's fundraising numbers are not so newsworthy as some interested parties would make it seem. The real headline would be if Franken was unable to attract vast amounts of money from sources outside the state. Undoubtedly, if this were the case, he would be criticized by his political opponents for a failure to raise money despite his national renown.
It will be interesting to see if and when Franken's fellow U.S. Senate hopefuls—DFLers and Coleman—pick up on this lead and try to make Franken's fundraising a central feature of their campaigns. If Rick Lazio were their political consultants, he might advise against it.