Illegal Immigration A Red Hot Issue In Battleground States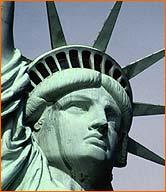 When Hillary Clinton stated her qualified support for a New York State law giving driver's licenses to illegal immigrants, she was criticized on two fronts: being out of step with the vast majority of Americans on the issue plus not giving a straight answer when pressed further on the issue by the MSNBC debate moderators. How much will her stance on illegal immigration hurt her campaign?
A November 2007 Rasmussen survey found 77 percent of Americans opposed giving driver's licenses to illegal immigrants, while 16 percent supported the measure. One rarely finds that kind of lopsided support for an issue, especially one that somehow remains a contentious issue on Capitol Hill.
Illegal immigration generally also remains a hot-button issue in several battleground states. A few weeks ago SurveyUSA asked registered voters in 7 key states (Minnesota, Maine, New Hampshire, Colorado, Virginia, New Mexico, and Oregon) what one issue Congress should focus on ahead of all others. The respondents were given 8 choices: the economy, the environment, health care, Iraq, terrorism, Social Security, education and immigration.
Immigration, at 15 percent, was tied for the 2nd most important when averaged across these states, only trailing the war in Iraq (at 22 percent). Fifteen percent also stated health care, followed by the economy (13 percent), terrorism (12 percent), the environment (7 percent), education (7 percent), and Social Security (5 percent).
Immigration was found to be the top Congressional priority for voters in Colorado and Virginia, the second most important issue in New Hampshire and Oregon, the third highest in New Mexico, the fourth highest in Minnesota, and the fifth highest in Maine.
Concern about immigration was starkly split among partisan lines. Republicans determined immigration to be the most important issue in 4 states (Oregon, Virginia, Colorado, and Maine) and the second most important issue in 3 (New Hampshire, New Mexico, and Minnesota). Overall, 1 of 4 GOP registered voters claimed immigration to be the most pressing concern for Congress.
For Democrats, however, only 5 percent named immigration the key issue, including just 3 percent in Minnesota. For independents, 15 percent replied immigration was the top Congressional priority, ranking as the most important issue among that cross section in Colorado and Virginia.
Given these numbers, immigration will likely be a key factor in the upcoming primary elections, except for those states with closed Democratic primaries. For those states in which independents can vote in the Democratic primary, Hillary Clinton's immigration stance could hurt her in a close race.