Wisconsinites Overwhelmingly Back Tough Measures Against Illegal Immigrants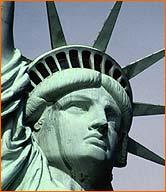 A new poll of 500 likely Wisconsin voters by Rasmussen Reports demonstrates how immigration remains a largely non-partisan issue among the electorate, even while there is a partisan divide on the issue between the Republican and Democratic presidential candidates.
Wisconsin has voted Democratic in each of the last 7 elections for U.S. Senate and 5 presidential elections dating back to 1988. Democratic presidential candidates also currently lead in most matchup polls between Hillary Clinton, Barack Obama, and John Edwards against Rudy Giuliani, Mitt Romney, John McCain, and Mike Huckabee respectively.
Whether or not immigration will become an issue that significantly impacts vote choice in 2008 remains to be seen, but the overwhelming views of the Wisconsin electorate match up much more cleanly with the GOP side of the ticket.
Rasmussen's poll, conducted December 5th, found nearly three-fourths of Wisconsinites (74 percent) believe police officers should automatically check to see if a person is in the country legally as a routine matter when pulling someone over for a simple traffic violation. Only 19 percent were opposed.
Respondents were not concerned that this immigration status check could lead to discrimination against people based on their skin color, their accent, or name (just 32 percent thought this process could lead to discrimination).
If the police officer discovers the person in question is an illegal immigrant, more than half of likely voters in Wisconsin believe that person should be deported. In fact, those in support of deportation outnumber those that oppose the measure by a 2.5 to 1 margin (53 percent to 21 percent; 25 percent were uncertain).
Only 11 percent of Wisconsinites believe undocumented immigrants should be allowed to get driver's licenses, with 79 percent opposed. Hillary Clinton ran into trouble with that issue in a debate several weeks ago when she indicated she supported the Governor of New York's (now defunct) plan to issue licenses to illegal immigrants. In Wisconsin, this is clearly not a winning stance to take.
Respondents in Wisconsin also overwhelmingly believe English should be the official language of the United States (by an 89 percent to 8 percent margin), while 76 percent believe businesses should be allowed to require its employees speak English while on the job (with only 12 percent disagreeing).
Illegal immigration has also been charting as a top five most important problem in recent national polls (NBC News/ Wall Street Journal, LA Times/Bloomberg, CBS News/New York Times). If it remains a hot-button issue throughout the 2008 campaign, Democrats could find themselves in trouble even in blue-leaning states, such as Wisconsin, where nearly all Republicans, the vast majority of independents, and approximately half of Democrats disagree with the policy positions of the leading Democratic candidates.