The Bhutto Assassination, Foreign Policy and the '08 Campaign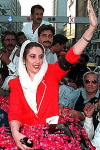 The assassination today of ex-Pakistan Prime Minister Benazir Bhutto in Rawalpindi provides a newfound emphasis (temporarily, at least) on the importance of foreign policy and the war on terrorism for the next U.S. president. The United States' fragile relationship with a nation at the center of terrorism and radical Islam is now even more in doubt—Pakistan President Pervez Musharraf is exceedingly unpopular both among the substantial number of extremists in Pakistan who support the Taliban and Osama Bin Laden (with estimates of that faction approaching 40 to 50 percent of the nation's population), as well as those pushing for Democracy and Bhutto's People's Party.
Aside from the issue of Iraq, foreign policy generally has not registered as an important issue in the mind of American voters at this stage of the presidential campaign. A recent Hotline poll of likely caucus voters in Iowa, for example, found only 4 percent cited international issues and problems as the most important issue facing the country today—behind the war in Iraq (29 percent), immigration (12 percent), the economy (12 percent), health care (8 percent), and terrorism (5 percent).
However, other polls have shown that national security and terrorism resonate as a premiere issue in states like Iowa, but largely only on the GOP side of the ticket. A McClatchy-MSNBC poll conducted in early December found 31 percent of Republican caucus voters citing those issues as the most important, but only 1 percent on the Democratic side (behind issues like health care, the economy, Iraq, and the environment).
Bhutto's assassination is of great significance to U.S. interests (Bhutto, educated in the United States, had many supporters here as well for her pro-Democracy, secular government agenda for Pakistan). Presidential candidates, especially Republicans, will no doubt tie this tragic event to their campaign platform, including the war in Iraq. John McCain spoke at a campaign rally in Des Moines this morning stressing how this assassination magnifies the importance of America's resoluteness in the war on terror while Rudy Giuliani released a statement vowing, "We must redouble our efforts to win the terrorist war against us."