New Hampshire Poll Roundup
Twenty-three polls of New Hampshire voters by 10 polling organizations have been released since the Iowa caucuses last Thursday evening (including eight this morning). What can we glean from these surveys?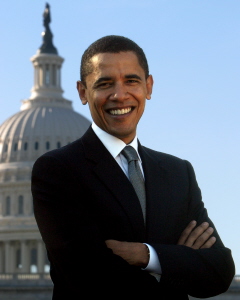 While Barack Obama has noticed a significant bounce from his Iowa victory that appears to have him poised to win the Granite State for its first-in-the-nation primary on Tuesday, Mike Huckabee has not been able to translate his success in the Hawkeye State to the northeast, and will be fighting for third place (with Rudy Giuliani and Ron Paul).
Obama is on top in each of the last 11 polls released, whereas Hillary Clinton had led in 69 of the previous 76 New Hampshire polls dating back to late January 2007. Obama's lead ranges from a low of a statistically insignificant 1 point (Suffolk/WHDH) to double digits leads in surveys released by CNN, Rasmussen, USA Today/Gallup, Zogby, and American Research Group. Clinton last polled on top (by just a few points) in surveys conducted through Saturday. The importance of the polls released today is that the entire survey field dates occurred after Iowa's caucuses on January 3rd.
On the Republican side, Huckabee has seen an uptick in support of no more than a few points in New Hampshire—he was polling at around 9 to 12 percent before the Iowa caucuses and, in the eight polls released today, is still polling at just 9 to 14 percent (averaging 11.5 percent).
John McCain, as projected by most pundits, has turned Mitt Romney's 2nd place 'loss' in Iowa to his advantage in New Hampshire. McCain leads in 9 of the 10 polls released today, by between 1 and 9 points. Romney leads by 3 points in the Suffolk/WHDH survey.
But Obama's buzz seems to be much greater than McCain's, and the fear in the McCain camp is that more and more independents will decide at the last hour to vote in the Democratic primary (for Obama) than in the Republican primary (for McCain). McCain holds a significant advantage—more than 2:1 in several polls—over Romney among independents, or undeclared voters, while Romney is the clear winner among Republicans. There appears, at this point, to be more impetus in the Granite state among non-Democrats to see Clinton lose (and Obama win) than there is to see McCain beat Romney. Romney is still very popular in New Hampshire, as evidenced by his high favorability rating, and is not seeing the slippage that Clinton is experiencing these last few days.