MPR / HHH MN Senate Poll: Franken & Coleman in Dead Heat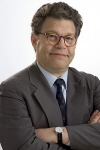 A Minnesota Public Radio / Humphrey Institute poll of 917 Minnesotans finds DFL candidate Al Franken running ahead of 1-term Republican incumbent Norm Coleman 43 to 40 percent.
The MPR / HHH survey, conducted January 20-27, marks the first time Franken has polled on top in any of the 9 matchup polls released since February 2007. Nearly one year ago, Coleman led by 22 points (SurveyUSA, February 2007), but Franken climbed to within single digits in each of the 5 previous public polls conducted since July 2007 (SurveyUSA, Rasmussen). The MPR / HHH survey found 17 percent of the Minnesota electorate uncommitted to either Franken or Coleman.
Franken, of course, has to win the DFL caucuses on Super Tuesday, February 5th to secure the general election matchup against Coleman. Franken led his chief rival, Mike Ciresi 42 to 18 percent among the 478 Democrats surveyed, with a substantial 35 percent undecided.
The MPR / HHH poll also found Coleman's job approval at 50 percent—which is right in line with how Minnesotans have viewed Coleman throughout most of his tenure in D.C.: in 35 of 37 public polls conducted since Feburary 2003 (the month after Coleman began serving the state), the senior Senator from Minnesota has received a job performance rating between 46 and 55 percent. By contrast, DFL Senator Amy Klobuchar has received a job approval rating of between 52 and 66 percent in the 13 surveys conducted during the past year, including 66 percent in the new MPR / HHH poll.