Obama's Bandwagon Rides Through Wisconsin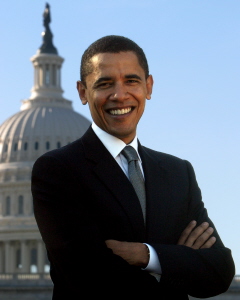 On February 19th, Wisconsin voters will have the somewhat rare opportunity to weigh in on a presidential nomination process while the outcome is at least somewhat in doubt.
As Smart Politics wrote on Monday, Wisconsinites will move in greater numbers to the side of Barack Obama, owing to his sweep through Tuesday's primaries and his increased presence in the Badger State through media buys. But Obama did even better than that by speaking to a capacity crowd at the Kohl Center in Madison last night—the Illinois Senator will no doubt benefit from additional free advertising from subsequent local news coverage.
A new survey by the Republican polling firm Strategic Vision currently gives Obama a 45 to 41 percent edge over Hillary Clinton, but that poll's ending field date was Sunday. Expect the vast majority of undecided voters (14 percent in that poll) and some Clinton supporters to break to Obama in the coming days.
If this blog author has any particular insights into the political climate of the Badger State, it may be attributed, at least at the margins, for having grown up there: in a moderate to conservative rural area, but about an hour away from both Madison and Milwaukee—the liberal strongholds in the state.
Obama will not only draw a significant number of traditional Democratic voters to his side next Tuesday, but also the vast majority of the state's more rabid left wing elements (i.e. Madison). Wisconsin has an open primary, so Obama should also benefit from the state's large number of (disaffected) independents, who will be less tuned in to the nearly decided (and less publicized) Republican race. The independent streak in Wisconsin can be strong: 14 percent of Wisconsin voters in the 2002 Wisconsin Governor's race gave the nod to third party candidates.
In the end, Wisconsin will not be unlike many other states on the campaign trail that have already crossed the path of the Obama momentum machine—getting themselves hitched to a fast-moving bandwagon as it travels from state to state. Clinton strategists know this, and perhaps that is why the New York Senator was in Texas last night (gearing, perhaps, for an Alamo-like defense against this bandwagon). Obama followed his rally in Madison Tuesday evening with multiple additional appearances in Wisconsin today, while Clinton's upcoming schedule is packed with appearances in Texas and Ohio.
But, to be fair, the oncoming shift to Obama in Wisconsin cannot solely be attributed to the fact that Wisconsin likes a winner. For example, while it is true that the number of Green Bay Packer fans increased significantly in the Badger State during Brett Favre's reign, the state still had a substantial core following of the Green and Gold during the two decades of lean years since Vince Lombardi—especially in blue collar towns.
However, it is also true that in Madison (the antithesis of a Wisconsin blue collar town) you did not see many sell-out crowds for Badger football or basketball games prior to the arrival in the 1990s of star head coaches Barry Alvarez and Dick Bennett.
Obama too is a star, and certainly flashy enough to interest and motivate Madison's liberal (and radical) base next Tuesday.