Obama Yet To Capture Hearts of Voters in Ohio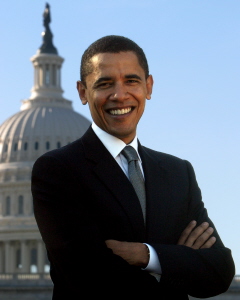 Barack Obama has been able to win, and win convincingly, in all 10 contests since Super Tuesday nearly a month ago. When Hillary Clinton's campaign unofficially set up her firewall in Ohio and Texas shortly after her losses in Louisiana, Nebraska, and Washington on February 9th, polls had her out in front of Obama by about 20 points in Ohio (Quinnpiac, February 12th) and just under 10 points in Texas (Insider Advantage, February 14th).
As repeated throughout the month here at Smart Politics, the more time and money Obama spends in a state, the higher and higher his numbers seem to rise. The Obama campaign has enjoyed such a surge in Texas, where 3 of the last 4 polls conducted in the state this week now show him with a narrow lead, although within the margin of error (CNN, SurveyUSA, InsiderAdvantage; Clinton has a narrow lead in this week's Rasmussen poll).
It is clear Clinton is not going to go to sleep next Tuesday night with the big victory that her campaign so desperately needed in the Lone Star State. In fact, she is probably more likely than not to be on the short end of the delegate count there.
In Ohio, however, Obama has yet to lead in any of the 25 public polls released during the past year. Quinnipiac has tracked the Democratic primary matchup in 14 polls, and still shows Clinton leading by double digits (51 to 40 percent) in its last poll ending February 23rd. Obama has made inroads in the state according to other surveys, but the junior Senator from Illinois has not polled within the margin of error in Ohio to date.
The internals of these surveys show Clinton to still be performing very well among one of her key demographics—older voters—enjoying a 7-point advantage among those aged 50 to 64 and a 32-point advantage among those aged 65 or older (SurveyUSA). Obama, as expected, dominates among younger voters, 55 to 38 percent, but is effectively tied with Clinton among those aged 35 to 49.
Clinton also enjoys a 22-point advantage over Obama among women in Ohio, who comprise a majority of Democratic primary voters (a recent ARG poll showed Clinton with a 28 point edge among women). Men support Obama by 16 points—not enough to give him the state.
Another key for Clinton is that she is thus far performing relatively well in Ohio among African Americans. According to SurveyUSA, Clinton is receiving the support of 23 percent of the black vote; final SurveyUSA polling before the Maryland primary, for example, showed Clinton with just 15 percent of the black vote in that state and only 13 percent in Virginia.
Obama's other problem is that he has not yet won over political moderates, among whom he trails Clinton 50 to 46 percent (SurveyUSA). By comparison, Obama is tied with Clinton among moderates in Texas; Obama led by 8 points among that demographic in final SurveyUSA polling in Virginia and by 17 points in Maryland.