Obama, Reverend Wright, and the Problem with Superdelegates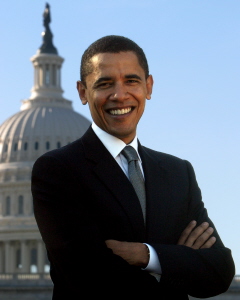 Barack Obama's speech this morning on race and politics was favorably received by media commentators, though it may have come too late to prevent the damage done to his campaign. Obama's longtime association with Reverend Jeremiah Wright will link the Illinois Senator in the public's mind (and perhaps in political ads down the road) quite closely to the controversial comments made by Wright that have surfaced in the media during the past several days. While Obama condemned the remarks of Reverend Wright in today's speech, he did not do so forcefully in interviews during the past few days. Moreover, perhaps to his detriment, Obama today strongly defended Wright the man (a subtlety that is not necessarily going to be grasped by the American people).
The problem for Obama is that this controversy on race and politics occurs at a time in which Hillary Clinton had already gained momentum with her victories on March 4th in Texas and Ohio. And it occurs in advance of what will likely be further positive momentum for Clinton: the Senator from New York continues to lead Obama by double digits in Pennsylvania, and will likely win the vast majority of remaining contests through early June. The cold hard political fact is that Obama stands to gain nothing from being embroiled in a discussion of race and politics—those demographics who would be sympathetic to his views, the views of Reverend Wright, or the discussion of the topic generally, have been firmly entrenched in Obama's camp for several weeks (e.g. Obama is already receiving approximately 90 percent of the black vote in the Democratic primaries).
As Obama's unfavorable ratings rise, even if only by 5 or 10 points, superdelegates that were prepared to back Obama because of Clinton's high negatives now may have second thoughts. If Democratic matchup polls against Republican nominee John McCain show slippage for Obama in the remaining few months of the primary season (which was likely to happen anyway as Clinton racked up more states in her column), superdelegates will be nervous that Obama is not a 'winner' come November.
But this new problem for Obama may only be revealed at the edges in upcoming closed Democratic primaries—perhaps as many as 35 or 40 percent of Democratic primary voters largely agree with the statements made by Reverend Wright. But Wright's comments are likely to alienate independents and moderate and conservative Democrats, and Clinton will almost certainly be the beneficiary of the latter (and McCain, to a large extent, the former).
Most of the political pundits who have come to the defense of Obama during the past week have insisted white America (and the American media) "do not understand Black churches," in their attempt to deflate the importance of Obama's association with Wright and even the meaning of Wright's own words. But even if that is so, the political point that will not be missed by a growing number of superdelegates is that America is not going to understand black churches any more clearly during the next few months, and a political campaign is not the time they want to educate the American public on this issue.