Obama's Numbers Sinking As Pastor Controversy Continues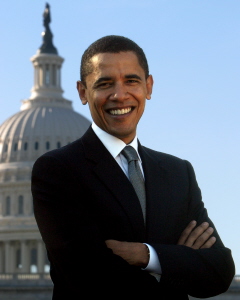 As news broke last week in the mainstream media of videotaped statements by Barack Obama's friend and Reverend spouting what most Americans view as radical, racially-fused, anti-American political rhetoric, Obama's lead over Hillary Clinton in national polls for the Democratic presidential nomination began to break as well.
One week ago, on March 13th, Obama was leading Clinton by 6 points, 50 to 44 percent, in Gallup's daily tracking survey of Democrats and Democratic-leaning voters—marking his largest lead since losing 3 of 4 states, including Texas and Ohio, to Clinton on March 4th.
By Friday the 14th, when news of Reverend Jeremiah Wright was gaining steam, Obama's lead was cut to 49 to 46 percent. After a weekend of Wright's video being played countless times in the broadcast media, and a generally unsatisfactory reaction to the political crisis by Obama in interviews and on the campaign trail, Clinton overtook Obama by two points—47 to 45 percent on Sunday, March 16th.
Clinton's lead edged upwards to 3 points, 47 to 44 percent, on Monday, and polling through Tuesday the 18th gave Clinton a 49 to 42 percent lead—a lead outside the margin of error. There will be a floor to Obama's drop, to be sure, as many of his core supporters are probably not troubled by the substance of Wright's comments, though even those supporters would probably privately acknowledge they are troubled by the effect those comments are having on the once very rosy future of Obama's presidential campaign.