Al Franken Wins DFL Endorsement for U.S. Senate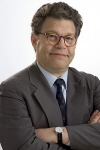 Actor, writer, and satirist Al Franken won the DFL endorsement for U.S. Senate at the party's convention this weekend in Rochester. Franken defeated college professor Jack Nelson-Pallmeyer on the first ballot.
The endorsement comes as little surprise, although Franken had been put on the defensive in recent days—particularly by women's groups—for various articles and (purportedly satirical) comments he had made during the past decade and a half as a comedian.
Still, Franken has long been touted as the DFL's best bet to defeat 1-term Republican incumbent Norm Coleman, especially since Mike Ciresi dropped out of the race earlier this year. Franken has polled within 10 points or less of Coleman in each of the last 10+ public polls, including leading Coleman by three points in Rasmussen and HHH / MPR polls back in mid-February and late January respectively. Nelson-Pallmeyer was routinely trailing Coleman by close to 30 points in most public opinion polls.
The Franken vs. Coleman matchup is one of the most high profile Senate races in a year in which several Senate seats will be contested.