Rasmussen Poll: Obama Up Big in MN, IA, Competitive in the Dakotas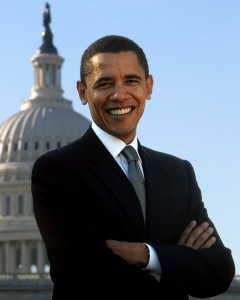 Barack Obama is looking to become the first Democratic candidate to sweep the Upper Midwest since Lyndon B. Johnson in 1964. New polling by Rasmussen indicates Obama is currently competitive enough in the Dakotas to have a chance at doing just that.
In South Dakota, a survey of 500 likely voters conducted on July 9th finds John McCain with a 44 to 40 percent lead, with 7 percent supporting a third party candidate and 9 percent uncertain. South Dakota has only voted Democratic one time in a presidential race since 1940 (for LBJ in '64) and just three times since Statehood (also voting for FDR in 1932 and 1936). An Obama win in South Dakota would therefore assure that John McCain lost the White House in a landslide election.
A poll of 500 likely North Dakota voters released last week by Rasmussen found McCain and Obama deadlocked in a 43 to 43 percent tie.
In Minnesota, Rasmussen's poll of 500 likely voters on July 10th measures Obama's lead at 17 points – 52 to 35 percent – the same margin yielded by Quinnipiac's late June survey. Obama has polled ahead of McCain by double digits in six of the last eight matchup polls in the Gopher State.
According to a July 10th Rasmussen poll of 500 likely voters in Iowa, Obama leads McCain by 10 points – 51 to 41 percent. Obama has led McCain in all public polling conducted this year, but his advantage had not risen to double-digits since mid-February until this new survey.
Rasmussen's July 8th poll in Wisconsin also found Obama up by double-digits: 50 to 39 percent. As discussed at Smart Politics on June 30th, Wisconsin and Iowa have voted together in 35 of 40 presidential elections since 1848.
George W. Bush is giving Obama an early Christmas present with low approval ratings across all five states: 37 percent in North Dakota, 34 percent in Wisconsin, 33 percent in South Dakota, 29 percent in Iowa, and a record 24 percent in Minnesota.