Franken Losing His Grip on Obama's Coattails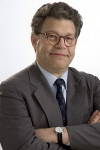 A new Senate poll by Rasmussen released on Wednesday gave a boost of confidence to Norm Coleman's re-election campaign, with the Senior Senator from Minnesota leading Al Franken by a 43 to 39 percent margin. Dean Barkley received the support of 14 percent of the 500 likely voters surveyed on October 28th.
Franken supporters would be wrong to dismiss this poll as an outlier. In fact, as Barack Obama has surged into a consistent double-digit advantage over John McCain in recent polls of likely voters in the Gopher State, there is clear evidence Franken has failed to capitalize on Obama's momentum in kind.
Smart Politics studied thirteen polls of the presidential and U.S. Senate races in Minnesota that were released in the month of October and measured the relative spread between Obama vs. McCain and Franken vs. Coleman. The week-by-week trends in October find support for Franken is not keeping pace with Obama's surge: in fact, Franken seems to have lost his grip on Obama's coattails.
In the first week of October, Obama's advantage over McCain was just 7.3-points greater than Franken's position against Norm Coleman (Pollsters: SurveyUSA, Star Tribune, Minnesota Public Radio, Rasmussen). Obama averaged a 9.5-point lead over McCain while Franken averaged a 2.2-point lead over Coleman. (With a strong third party candidate in the Senate race, Dean Barkley, it is to be expected that Obama would have a stronger lead than Franken from the onset, as the Senate race is more 'compressed').
In both the second and third weeks of October, Obama's spread over McCain was 9.0 points higher than Franken's position against Coleman (Pollsters: Quinnipiac, Research 2000, Star Tribune, SurveyUSA, National Journal). Obama led by an average of 10.2 points over McCain while Franken led Coleman by just 1.2 points.
As the fourth week of October closed, the difference between Obama and Franken ballooned to 13.5 points – nearly double the difference from the first week of the month (Pollsters: St. Cloud State University, Big 10 Battleground, and two polls by Rasmussen). Obama now leads McCain by an average of 12.75 points, while Franken trails Coleman by an average of 0.75 points.
While Minnesotans seem to have rallied around Barack Obama in the presidential race, it appears they may only have so much appetite for 'change'; there simply may not be enough of it to go around to send both Obama to the White House and Franken to D.C.