Inside Obama's Landslide: The Young Man Went West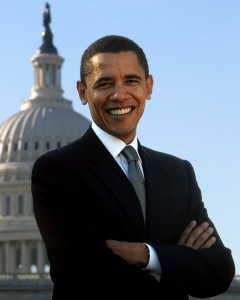 Barack Obama's near landslide victory over John McCain last week was impressive on a number of dimensions. Most obviously, Obama picked up 9 states that went Republican in the 2004 election: Colorado, Florida, Indiana, Iowa, North Carolina, New Mexico, Nevada, Ohio, and Virginia.
Less evident, but equally impressive, is that Obama improved on John Kerry's margin of victory (or defeat) in 46 of the 50 states plus the District of Columbia. The five states in which Obama lost ground for the Democrats from 2004 are Arkansas (-9.78 points), Louisiana (-4.19), Tennessee (-0.90), West Virginia (-0.24), and Oklahoma (-0.15).
Interestingly, Hillary Clinton carried 4 of those 5 states during the Democratic primary, as well as 7 of the 9 states in which Obama had the least impressive movement from the 2004 election: Arkansas, Tennessee, West Virginia, Oklahoma, Massachusetts (+0.54), Arizona (+1.87), and Kentucky (+3.63) (Obama won Louisiana and Alaska (+0.43)). While Obama was never expected to carry any of those states in the general election, save Massachusetts, it is possible that the selection of Sarah Palin, despite the beating she took in the national press, solidified support for McCain (or opposition to Obama) among Hillary Clinton voters in some of those states.
Still, Obama registered double-digit improvements over John Kerry's margin of victory or loss in 24 states in 2008 – including 14 states that were won by George W. Bush in 2004: Indiana (+21.64), North Dakota (+18.68), Montana (+18.01), Nebraska (+17.18), Utah (+16.82), New Mexico (+15.39), Nevada (+15.01), Virginia (+14.35), South Dakota (+13.06), North Carolina (+12.75), Idaho (+12.64), Colorado (+11.42), Georgia (+11.34), and Texas (+11.11).
As the preceding data suggests, Obama's 50-state strategy paid off much more in the West, where his average gain from 2004 was 11.3 points (excluding Hawaii), compared to just 4.1 points in the South – despite picking up Virginia, North Carolina, and Florida for the Democrats.
Democratic Presidential Nominee Margin of Victory / Loss By State, 2004-2008

| | | | |
| --- | --- | --- | --- |
| State | 2004 | 2008 | Difference |
| Arkansas | -9.76 | -19.54 | -9.78 |
| Louisiana | -14.51 | -18.70 | -4.19 |
| Tennessee | -14.27 | -15.17 | -0.90 |
| West Virginia | -12.86 | -13.10 | -0.24 |
| Oklahoma | -31.14 | -31.29 | -0.15 |
| Alaska | -25.55 | -25.12 | 0.43 |
| Massachusetts | 25.16 | 25.70 | 0.54 |
| Arizona | -10.47 | -8.60 | 1.87 |
| Kentucky | -19.86 | -16.23 | 3.63 |
| Alabama | -25.62 | -21.62 | 4.00 |
| Ohio | -2.11 | 3.79 | 5.90 |
| Mississippi | -19.69 | -13.74 | 5.95 |
| D.C. | 79.84 | 85.95 | 6.11 |
| Minnesota | 3.48 | 10.24 | 6.76 |
| Missouri | -7.20 | -0.20 | 7.00 |
| New York | 18.29 | 25.44 | 7.15 |
| Rhode Island | 20.75 | 27.91 | 7.16 |
| Wyoming | -39.79 | -32.24 | 7.55 |
| New Jersey | 6.68 | 14.42 | 7.74 |
| Pennsylvania | 2.50 | 10.25 | 7.75 |
| Florida | -5.01 | 2.80 | 7.81 |
| South Carolina | -17.08 | -8.98 | 8.10 |
| Maine | 9.00 | 17.53 | 8.53 |
| New Hampshire | 1.37 | 10.40 | 9.03 |
| Washington | 7.18 | 16.56 | 9.38 |
| Iowa | -0.67 | 9.27 | 9.94 |
| Kansas | -25.38 | -15.39 | 9.99 |
| Maryland | 12.98 | 23.82 | 10.84 |
| Texas | -22.86 | -11.75 | 11.11 |
| Georgia | -16.60 | -5.26 | 11.34 |
| Colorado | -4.67 | 6.75 | 11.42 |
| Oregon | 4.16 | 16.06 | 11.90 |
| Connecticut | 10.37 | 22.60 | 12.23 |
| Idaho | -38.12 | -25.48 | 12.64 |
| North Carolina | -12.43 | 0.32 | 12.75 |
| Michigan | 3.42 | 16.46 | 13.04 |
| South Dakota | -21.47 | -8.41 | 13.06 |
| Wisconsin | 0.38 | 13.90 | 13.52 |
| California | 9.95 | 23.57 | 13.62 |
| Illinois | 10.34 | 24.67 | 14.33 |
| Virginia | -8.20 | 6.15 | 14.35 |
| Nevada | -2.59 | 12.42 | 15.01 |
| New Mexico | -0.79 | 14.60 | 15.39 |
| Vermont | 20.14 | 35.65 | 15.51 |
| Utah | -45.54 | -28.72 | 16.82 |
| Nebraska | -33.22 | -16.04 | 17.18 |
| Delaware | 7.59 | 24.99 | 17.40 |
| Montana | -20.50 | -2.49 | 18.01 |
| North Dakota | -27.36 | -8.68 | 18.68 |
| Indiana | -20.68 | 0.96 | 21.64 |
| Hawaii | 8.74 | 45.27 | 36.53 |