Franken's (Apparent) Victory Is 4th Weakest U.S. Senate Performance in DFL History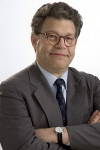 Throughout his U.S. Senate campaign, Al Franken was dogged by criticisms, even peppered from within his own party, that he was a 'weak candidate' for the DFL. These criticisms took many forms, such as stern words regarding Franken's writings and temperament from respected DFL U.S. Representative Betty McCollum to the DFL primary challenge launched by Priscilla Lord Faris.
But, above all, intraparty criticisms against Franken were borne out of the cold hard polling data that frequently found its nominee struggling to gain an advantage over Republican Norm Coleman in an election year in which Barack Obama was set to easily carry the Gopher State (which he eventually did, by 10+ points).
While still hoping that Franken would overtake Norm Coleman's Election Day vote tally advantage, many DFLers and liberal blogs continued to lament how they ended up with the famous satirist as their 2008 candidate through the past two months. The rationale of their discontent was simply this: in an election year in which the top of the DFL ticket carried the state by a double-digit margin, why is the DFL even in a position to need a recount to win its Senate race?
All may well be forgiven if ultimately Franken holds onto his 225-vote lead he has amassed to date in the recount process. But the truth remains, just as Norm Coleman overperformed in the face of historically staggering odds, Al Franken clearly underperformed in the current political and ideological environment.
A Smart Politics analysis of Minnesota's historical U.S. Senate election returns finds Franken's performance to be the 4th worst out of the 22 DFL nominees on the ballot in general elections since the DFL merger in 1944, when measured against the performance of DFLers at the top of the ticket in presidential and gubernatorial elections held that year. (Note: by comparing margin of victories and not vote percentages, the impact of Independence Party candidate Dean Barkley on the Senate race is minimized in this historical analysis).
Whether or not Franken prevails against Coleman's likely election contest, only three other DFL candidates will have sustained a worse net margin of victory or loss vis-à-vis the DFL performance at the top of the ticket than Franken's 10.2 point net marginal deficit to Barack Obama. Only Mark Dayton in 1982 (24.9 net points behind Rudy Perpich), Hubert Humphrey III in 1988 (22.3 net points behind Michael Dukakis), and Joan Anderson Growe in 1984 (17.0 net points behind Walter Mondale) incurred a larger net margin of victory or loss.
Franken's weak performance comes on the heels of a string of 5-straight elections dating back to 1990 in which the DFL Senate nominee performed comparatively stronger than the top of the ticket, both in victory (Amy Klobuchar in 2006, Paul Wellstone in 1996 and 1990) and in loss (Walter Mondale in 2002, Ann Wynia in 1994).
As a result, just as Norm Coleman's performance will be noted for being historically strong, Franken's victory will be noted for being historically weak, and thus all the more remarkable in victory, should he prevail.
Strongest DFL U.S. Senate Margin of Victories Vis-à-vis Top of the Ticket Voting, 1946-2008
Year

DFL Candidate

DFL US Senate

DFL President

DFL Governor

Difference

1976

Hubert H. Humphrey

42.5

12.9

+29.6

1994

Ann Wynia

-5.0

-29.2

+24.2

2006

Amy Klobuchar

20.2

-1.0

+21.2

1972

Walter Mondale

13.8

-5.5

+19.3

1966

Walter Mondale

8.7

-5.7

+14.4

1960

Hubert H. Humphrey

15.3

1.4

+13.9

1954

Hubert H. Humphrey

14.3

5.9

+8.4

1970

Hubert H. Humphrey

16.2

8.5

+7.7

2000

Mark Dayton

9.0

2.4

+6.6

1990

Paul Wellstone

2.6

-3.3

+5.9

2002

Walter Mondale

-2.2

-7.9

+5.7

1948

Hubert H. Humphrey

20.0

17.3

+2.7

1946

Theodore Jorgenson

-19.1

-19.3

+0.2

1952

William E. Carlson

-14.1

-11.2

-2.9

1964

Eugene J. McCarthy

21.0

27.8

-6.8

1958

Eugene J. McCarthy

6.3

14.5

-8.2

1996

Paul Wellstone

9.0

16.1

-9.1

1978

Wendell Anderson

-16.2

-7.0

-9.2

2008

Al Franken

0.0

10.2

-10.2

1984

Joan Anderson Growe

-16.8

0.2

-17.0

1988

Hubert Humphrey III

-15.3

7.0

-22.3

1982

Mark Dayton

-6.0

18.9

-24.9