Will Al Franken Be the Favorite in 2014?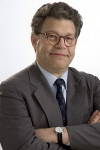 Presuming Al Franken is eventually seated as the junior Senator from Minnesota sometime this year, the Republican Party will no doubt soon be gearing up to plan his political demise in 2014 – whether with Norm Coleman in a rematch or against another GOP opponent.
Of course, assessing the likelihood of Franken's reelection chances in 2014 before he is even sworn into office is more sport than science, and is dependent on innumerable unknown variables: How will Franken legislate? What will the political environment be like in six years? Will his opponent be able to raise enough funds? etc.
The fact that Franken appears to have won the narrowest U.S. Senate victory in Gopher State history would seem to make him all the more vulnerable a target in 2014.
While incumbents tend to have a significant advantage over their challengers in Congressional races generally, the history of Minnesota U.S. Senate elections is such that margin of victories are not a great predictor of future success.
Smart Politics studied subsequent election outcomes of Minnesota U.S. Senators elected by competitive margins (less than 10 points) and those by less competitive margins (more than 10 points).
As it turns out, there is virtually no difference in the re-election success rate of those who won narrowly and those who won by large margins six years prior.
Re-election Fate of Minnesota U.S. Senators by Margin of Victory, 1912-2008
Candidate

Won

Lost

Did not run**

Elected by less than 10 points

50%

20%

30%

Elected by more than 10 points*

45%

23%

32%
* Excludes DFLer Amy Klobuchar elected in 2006.
** Includes Senators who did not run, left office, or died during their term.
In the case of competitively decided races, such as is Franken's situation, 50 percent of Senators won re-election the following cycle (5 of 10 incumbents): Republican Thomas Schall by 1.0 points in 1924 (reelected in 1930), DFLer Eugene McCarthy by 6.3 points in 1958 (reelected in 1964), DFLer Walter Mondale by 8.7 in 1966 (reelected in 1972), Republican Dave Durenberger by 6.0 points in 1982 (reelected in 1988), and DFLer Paul Wellstone by 2.6 points in 1990 (reelected in 1996).
Only 2 out of 10 Senators (20 percent) who won close elections then turned around to lose their subsequent reelection bid – both of these being recent cases: Republican Rod Grams by 5.0 points in 1994 (losing in 2000) and Norm Coleman by 2.2 points in 2002 (losing to Franken in 2008, challenge pending).
Three Senators either did not run for reelection (DFLer Mark Dayton) or died in office (Scall in 1935 and Wellstone in 2002).
Those Senators who won elections by double-digits, however, did not fare any better in the following election cycle – in fact, they performed slightly worse. Only 45 percent of such incumbents won reelection (10 of 22), with five losing in the general election (23 percent), and 32 percent dying in office, vacating their seat for another post, or choosing not to run (7 total).
In short, if past is prologue (and all things being equal), should Franken prevail and choose to run in 2014, he would seem to have about a 67 percent chance of winning reelection, as 15 of 22 Senators have done before him.
Re-election Fate of Minnesota Senators Who Won Competitive Elections, 1912-2008
Year

Senator

MoV

Reelection outcome

2002

Norm Coleman

2.2

Lost in 2008 (pending challenge)

2000

Mark Dayton

5.5

Did not run

1996

Paul Wellstone

9.0

Died in office

1994

Rod Grams

5.0

Lost in 2000

1990

Paul Wellstone

2.6

Won in 1996

1982

Dave Durenberger

6.0

Won in 1988

1966

Walter Mondale

8.7

Won in 1972

1958

Eugene McCarthy

6.3

Won in 1964

1930

Thomas D. Schall

1.5

Died in office

1924

Thomas D. Schall

1.0

Won in 1930