79 Days: Minnesota Sets State Record for Longest Period With Only One U.S. Senator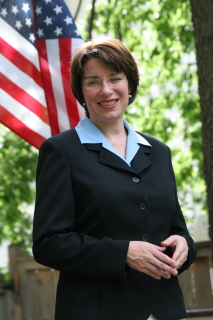 At 12:00 am Monday morning, the State of Minnesota set a new record for operating at half-strength in Capitol Hill's upper chamber.
At 79 days and counting, Minnesota's current stint with only one U.S. Senator has now eclipsed the previous mark set in the summer of 1923, when it took 78 days to schedule a July 16, 1923 special election for the unexpired term ending March 3, 1925 to fill the vacancy caused by the death of Republican Knute Nelson on April 28, 1923. Farmer-Laborite Magnus Johnson won that election.
Norm Coleman's first (and perhaps only) term expired on January 3, 2009. Since then, the State Canvassing Board ended their recount, Secretary of State Mark Ritchie and Governor Tim Pawlenty both agreed that Franken should not be certified the winner until any legal challenge was resolved, and Coleman rested his case in state court challenging the Canvassing Board results.
All the while, DFL Senator Amy Klobuchar continues to work double-duty in Washington, not knowing when the Gopher State will enjoy its full complement of senators, or whether that senator will ultimately be her fellow DFLer, Al Franken, or her former colleague, Coleman.
Should Franken indeed emerge the winner from the 3-judge panel, it is unclear whether or not the U.S. Senate will try to seat him even with Coleman not yet having exhausted all of his legal appeals.
While Coleman's lawsuit is currently in the hands of the 3-judge panel, his Attorney Joe Friedberg has said his legal team is already planning an appeal to the Minnesota Supreme Court.
Coleman's legal team also tipped their hand during the trial suggesting they are angling for a 'redo' election, based on the argument that the true winner of the November 4th election cannot be known due to inconsistencies in vote-counting in different counties around the state, particularly regarding absentee ballots.
With all these legal maneuverings still on the horizon, the odds are quite good Minnesota will still be at half-strength in the U.S. Senate at the 100-day mark next month.
Periods with Only One U.S. Senator in Minnesota State History
Outgoing

Date

Reason

Incoming

Date

Days

Norm Coleman

01/03/2009

Contested election

???

???

79+

Knute Nelson

04/28/1923

Death

Magnus Johnson

07/16/1923

78

Ernest Lundeen

08/31/1940

Death

Joseph H. Ball

10/14/1940

43

Alonzo J. Edgerton

10/30/1881

End of appt.

William Windom

11/15/1881

15

Hubert H. Humphrey

01/13/1978

Death

Muriel Humphrey

01/25/1978

11

Paul Wellstone

10/25/2002

Death

Dean Barkley

11/05/2002

10

Cushman K. Davis

11/27/1900

Death

Charles A. Towne

12/05/1900

7

Thomas D. Schall

12/22/1935

Death

Elmer A. Benson

12/27/1935

4

William Windom

03/07/1881

Resigned

Alonzo J. Edgerton

03/12/1881

4

Daniel S. Norton

07/13/1870

Death

William Windom

07/15/1870

1
Note: Data compiled by Smart Politics.
Follow Smart Politics on Twitter.