Michele Bachmann on D.C.: "I'm a Foreign Correspondent On Enemy Lines"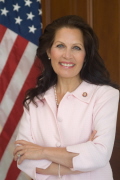 During a Saturday afternoon interview on WWTC 1280 AM with The Northern Alliance's John Hinderaker and Brian Ward, Minnesota Republican Congresswoman Michele Bachmann discussed her staunch opposition to several Democratic-led efforts on Capitol Hill this session – such as the American Recovery and Reinvestment Act, the recently passed HR 1586 tax on bonuses for TARP recipients, and President Barack Obama's cap-and-trade energy plan to reduce greenhouse gases.
Bachmann then began to talk about her role as Representative at the nation's Capitol. Explaining the resources available at her U.S. House website which enable her to communicate what is happening in D.C. to the public, such as her Bachmann Bulletin, Bachmann Blog, and links to her Facebook, Twitter, and Myspace pages, the Congresswoman said, "I'm a foreign correspondent on enemy lines and I try to let everyone back here in Minnesota know exactly the nefarious activities that are taking place in Washington."
Congresswoman Bachmann did not unpack this analogy during the interview to spell out whether she considers herself a foreign correspondent simply because the Democratic Party is in charge of D.C., or whether she believes Democratic policies are changing America into a different country altogether from the one she would like to see.
In any case, it was no accident for Representative Bachmann to conjure up images of war and battlelines in reference to Washington Democrats (instead of referring to them with the customary "loyal opposition" tag). For this was not the first time Bachmann referred to herself as a "foreign correspondent" nor her political opponents in D.C. as "enemies."
During a January 14, 2009 interview with conservative talk show host Glenn Beck, Representative Bachmann explained how she is one of only a handful of members of Congress who are "keepers of the flame" – fighting to prevent the federal government from taking freedom (and money) from the American people:
"I would say there are probably 30 keepers of the flame over here…The main thing we can do right now is be foreign correspondents reporting to you from enemy lines."
On the issue of Obama's proposed cap-and-trade energy tax on Saturday's radio show, Representative Bachmann expanded on the war metaphor:
"I want people in Minnesota armed and dangerous on this issue of the energy tax because we need to fight back. Thomas Jefferson told us 'having a revolution every now and then is a good thing,' and the people – we the people – are going to have to fight back hard if we're not going to lose our country. And I think this has the potential of changing the dynamic of freedom forever in the United States."
Congresswoman Bachmann also railed against HR 1586, stating it was the result of the Democrats rushing the American Recovery and Reinvestment Act through the House without its own members even reading the bill.
"I have never seen a bigger CYA bill in my life," said Bachmann in reference to the new tax on bonuses of TARP corporations.
Follow Smart Politics on Twitter.
114 Comments