Practicing What He Preaches: Obama's (Safe) Post-Partisan NCAA Picks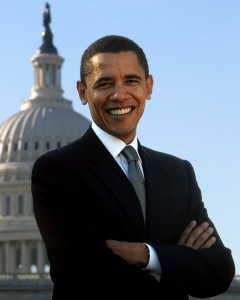 President Barack Obama has been bluntly criticized by some pundits and politicians for taking time out of his White House schedule to fill out his NCAA Men's Basketball tournament picks on ESPN last week.
While some Americans enjoyed Obama's 'man-of-the-people' demonstration, others, such as Republican Senators Lamar Alexander and Jon Kyl and NCAA coaches like Mike Krzyzewski (who Obama did not pick to reach the Final Four), have said the President should be spending more time on fixing the economy, and less time on such trifling matters.
But what about Obama's picks themselves? Is there anything overtly or implicitly political about the selections he made?
A Smart Politics analysis of Obama's 63 picks finds the president largely even-handed when picking the winners of matchups between teams hailing from "Obama states" versus teams from "McCain states."
For example, taking Obama's bracket pick-by-pick, 27 of the 63 games involve teams from states Obama carried in the 2008 presidential election matched up against teams from states won by John McCain. The President picked the Obama State schools in 15 matchups (55 percent) and the McCain State schools in 12 games (45 percent).
In several scenarios, the President simply played the odds by backing a higher-seeded McCain State team over a lower-seeded Obama State team, such as:
· #1 Lousiville (KY) over #4 Wake Forest (NC) in Round 3
· #1 Lousivile over #2 Michigan State (MI) in Round 4
· #3 Missouri over #6 Marquette (WI) in Round 2
On only one occasion, however, did Obama pick a lower seeded McCain State team to upset one from an Obama State:
· #2 Memphis (TN) over #1 Connecticut in Round 4
There were, however, several instances of the President selecting an Obama State underdog against a McCain State favorite:
· #11 Temple (PA) over #6 Arizona State in Round 1
· #3 Syracuse (NY) over #2 Oklahoma in Round 3
· #9 Butler (IN) over #8 Louisiana State in Round 1
In general, however, the President had safe (political) passage throughout the bracket. In 36 of the 63 games (57 percent) on Obama's bracket, teams from states backing the same presidential candidate squared off against each other.
In 27 games an Obama State school faced another Obama State school, and in the remaining 9 instances a McCain State team played against another McCain State team.
Success of Teams from Obama States in the President's NCAA Bracket
Winner

Obama State

McCain State

Obama State

(27)

15

McCain State

12

(9)
Note: Data compiled by Smart Politics
Overall, these picks are largely in sync with Obama's campaign pledge of post-partisanship, with just a slight edge to schools hailing from Democratic-carried states.
Next, Smart Politics contemplated that perhaps Obama would not employ so obvious a strategy as to reward a large number of schools from Obama States. Perhaps the President opted to play a shrewder game of Electoral College math. Were Obama's selections influenced by the number of electoral votes of each basketball team's state?
Here too the cynics will be disappointed.
Of the 63 tournament games, Obama picked the team hailing from the state with the most Electoral College votes in only 31 of them. The President selected the school from the less populated state in head-to-head matchups in 29 instances. (Teams from states with the same number of electoral votes were matched up against each other in 3 games: Louisville (KY) vs. Morehead State (KY) in Round 1, Purdue (IN) vs. Washington in Round 2, and Memphis (TN) vs. Missouri in Round 3).
For example, Obama has Louisville (and Kentucky's 8 electoral votes) going all the way to the championship game – defeating teams from much more populous states along the way, like #8 Ohio State (20 electoral votes), #4 Wake Forest (NC, 15), #2 Michigan State (17), and #3 Memphis (TN, 11).
Most matchups followed this track – with a team from a less populous state, like Louisville, only picked by Obama when it was playing a team with a lower seed.
For example, the President picked #2 Duke (NC, 15 electoral votes), to defeat #15 seed Binghamton (NY, 31), #7 Texas (34), and #3 Villanova (PA, 21) in the first three rounds. Similarly Obama picked #4 Gonzaga (WA, 11 votes) to defeat #13 Akron (OH, 20) and #5 Illinois (21) in the first two rounds.
However, although the President does not seem to have inordinately picked teams from Obama States, nor teams from the most populous states, Jay Leno did raise the issue of whether Obama was nonetheless playing politics when the President appeared on The Tonight Show last week:
LENO: "Like, do you look at the whole picture when you do that? For example, isn't that (North Carolina) a swing state? (Laughter and applause.) I'm just saying, are you looking at the whole picture when you pick?"
OBAMA: "I mean, the fact that teams from North Carolina, Indiana, Iowa, all seem to do well in my bracket — (laughter) — I think is a complete coincidence. Absolutely."
True, Obama picked the Tar Heels from the newly minted battleground state of North Carolina to win the championship game. But did the President go out of his way to pick teams from battleground states in the previous five rounds?
In fact, he did.
Of the 26 matchups in Obama's bracket that pitted teams from battleground states against teams from non-battleground states, the battleground state teams won 17 of them (65 percent). Only 9 teams from non-battleground states were picked by Obama.
For example, the battleground state team of #2 Michigan State notched victories in Obama's bracket against #7 Boston College (MA) and #3 Kansas.
Similarly, in 8/9 seeded opening round games, Obama picked battleground state teams of Ohio State and Butler (IN) over non-battleground state teams Siena (NY) and Louisiana State respectively.
Obama rewarded #4 battleground state team Wake Forest (NC) by projecting them to knock out two non-battleground state teams – #12 Arizona in Round 1 and #5 Utah in Round 2. (Wake actually lost their opening round game, in a too-little-too-late victory for Senator John McCain).
Twenty additional matchups in Obama's bracket pitted teams from non-battleground states against each other, while 17 games pitted schools from battleground states against other schools from battleground states.
Success of Teams from Battleground States in the President's NCAA Bracket
Winner

Battleground

Non-battleground

Battleground

(17)

17

Non-battleground

9

(20)
Note: Data compiled by Smart Politics
In truth, President Obama's picks are less political than they are safe, and that was likely the determining factor in the selection of his teams. (And that is why he has 14 of the 16 slots correct going into Round 3 on Thursday).
But still, somewhere, deep in the back of the President's mind, don't you suppose it was just a little bit easier for him to pick North Carolina to win the championship game, a school from a state which delivered a huge win for Obama on November 4th, than to pick Louisville, a school from a state that embarrassed Obama in both the primary and general elections?
Follow Smart Politics on Twitter.