Charles Grassley: Folksiness with an Edge

At 75 years old, the longest elected U.S. Senator in Iowa history, the 11th most senior member of the U.S. Senate, and having cast more than 10,000 votes in Capitol Hill's upper chamber, Republican Senator Charles Grassley is just getting started. Or so it seems.
Now 34+ years into his D.C. political career, the 5-term Senator has made more headlines during the last month of the new session of Congress than perhaps all of 2008, with the media feasting on Grassley's off-the-cuff, salty language – language that might damage less seasoned Republican colleagues on the Hill.
On March 16th, Grassley commented on infamous bonuses received by AIG executives, after the company received billions of federal bailout dollars, by telling Cedar Rapids radio station WMT:
"The first thing that would make me feel a little bit better towards them, if they had followed the Japanese example and come before the American people and take that deep bow and say, "I'm sorry," and then either do one of two things, resign or go commit suicide."
Grassley's public stand against what he views as the irresponsibility of corporate culture in America resurrected his populist, folksy streak. This streak has great appeal among the Hawkeye State's independents and Democrats, and Grassley's approval rating among both of these subgroups is regularly over 60 percent, even though Iowans view Grassley as more ideologically conservative than moderate by a 2:1 margin (Rasmussen, August 2006). Throughout the past decade Grassley's approval rating among all Iowans has frequently exceeded the 70 percent mark.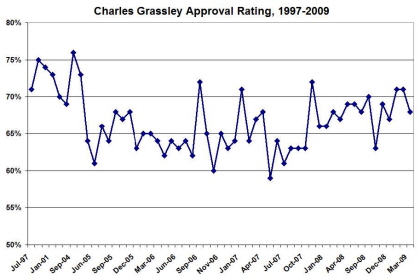 However, not everyone is buying what Grassley is selling. Grassley is up for reelection in 2010 and Democratic hopeful Bob Krause stated at a Des Moines campaign rally last month, "Farmer Grassley was the one that opened the barn door and let the cow out at AIG."
Grassley followed up his AIG comments a week later, on March 26th, at a Senate Budget Committee markup meeting, when he had a bizarre and off-color (on his part) exchange with Democratic Senator Kent Conrad of North Dakota:
Grassley: "You remember, you asked me two years ago not to take a vote on it and you said if we did take a vote on it you might not get your budget resolution adopted. And so I did not ask for a vote on it and you said it was a very statesman-like thing for me to do at that particular time. And so I would hope you would return the favor."
Conrad: "You know, I used to like you. Oh, you are good."
Grassley: "Your wife said the same thing."
While Grassley explained away his AIG comments as "rhetoric," he stopped short of apologizing for that or his verbal towel-snapping with Senator Conrad. To do otherwise would run counter to his folksy image of a man who, as he states on his Senate webpage, "Tells it like it is."
Grassley's continued appeal to independents and Democrats is key for the Hawkeye State's senior Senator, as he is just one of 10 Republican Senators serving states carried by Barack Obama (along with Richard Burr (NC), Susan Collins (ME), Olympia Snowe (ME), Judd Gregg (NH), Arlen Specter (PA), George Voinovich (OH), John Ensign (NV), Richard Lugar (IN), and Mel Martinez (FL)). He is also just one of seven GOP Senators serving states carried by Obama with a Democratic governor (Burr, Collins, Snowe, Gregg, Specter, and Voinovich).
Grassley also refers to himself as a "renowned watchdog." It is this folksiness-with-an-edge that has led Grassley to landslide victories in Iowa over the years.
The folksiness? It comes not only from his rural-tinged drawl, but also his reputation for being 'in touch' with his constituency. The Senator boasts about holding meetings in each of Iowa's 99 counties at least one time a year.
And the edge? Grassley has been a strong advocate for whistleblower protection over the years to expose corruption and waste in the federal government.
The landslide victories should come as no surprise to those who have followed Grassley's political career from the beginning.
Winning his first term to the U.S. House in the 1974 election, Grassley was the only Republican to serve in Iowa's six-representative delegation. That November, 4-term Republican Representatives Wiley Mayne and Bill Scherle were voted out of office in the Democratic landslide after the Watergate scandal. Only Grassley was able to prevent a Democratic sweep, by holding the GOP seat left by Harold R. Gross.
Grassley went on to win his next two U.S. House races and five U.S. Senate contests by an average margin of 32 points.
Follow Smart Politics on Twitter.