Bachmann's Media Blitz Increasing Statewide, Not National, Fundraising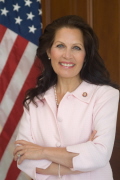 When the Federal Election Commission (FEC) released its Q1 2009 campaign fundraising data at the end of last week, the Minnesota media largely focused on how Michele Bachmann lead the Minnesota U.S. House delegation in contributions received.
But reports on Representative Bachmann's fundraising success, and growing national profile, missed the key stories behind the FEC data.
First, Congresswoman Bachmann's media blitz is actually landing her a greater percentage of funds raised statewide. In fact, the percentage of itemized funds donated by individuals raised by Bachmann outside of Minnesota during Q1 2009 is actually down from both Q1 2007 and Q1 2008. Contributions by Minnesotans have increased from 73.5 percent of all funds raised from individuals in Q1 2007, to 79.8 percent in Q1 2008, to 81.3 percent in Q1 2009.
Overall, Bachmann's fundraising efforts have been quite impressive – the $313K raised in Q1 2009 is up 20.8 percent from the same period in 2007 ($259K). Bachmann nearly equaled her Q1 2008 efforts ($346K) – a remarkable feat as campaign contributions really start pouring in during even-numbered years.
But the biggest boon to the Congresswoman's newfound media stardom during the past few months has actually been through her homegrown fundraising efforts.
In Q1 2009, Bachmann raised only 18.7 percent of her itemized funds contributed by individuals outside of the Gopher State, with 81.3 percent coming from Minnesota. In Q1 2007, 26.5 percent of her itemized contributions were raised by individuals from outside of Minnesota. In short, as the Congresswoman's national profile has increased over the last few years, she is getting a greater percentage of financial support from Minnesotans.
Michele Bachmann First Quarter Itemized Individual Campaign Contributions by Location, 2005-2009 (Percentage)
Location

2005

2006

2007

2008

2009

Minnesota

90.1

88.6

73.5

79.8

81.3

Out of state

9.9

11.4

26.5

20.2

18.7
Note: FEC data compiled by Smart Politics.
First quarter contributions in net dollars to Representative Bachmann's campaign from Minnesotans have also continued to increase. Bachmann raised 115.8 percent more money from individual Minnesotans in Q1 2009 than in Q1 2007, and 6.6 percent more funds than from Q1 2008. Meanwhile, funds contributed by individuals from out of state increased only 38.1 percent from Q1 2007 to Q1 2009 and decreased in net dollars by 2.9 percent from Q1 2008 to Q1 2009.
Michele Bachmann First Quarter Itemized Individual Campaign Contributions by Location, 2005-2009 (Dollars)
Location

2005

2006

2007

2008

2009

Total

$50,805

$66,042

$88,050

$164,264

$171,930

Minnesota

$45,755

$58,542

$64,735

$131,099

$139,730

Out of state

$5,050

$7,500

23,315

$33,165

$32,200
Note: FEC data compiled by Smart Politics.
While DFLers and the left-wing blogosphere (and a few Republicans) have been extremely critical of Representative Bachmann's comments on a whole host of issues in recent months, many fail to appreciate her substantial base of support – both district and statewide. That support base is now translating into a greater and greater percentage of and net dollars in homegrown fundraising over comparable quarterly periods from previous years.
Bachmann was able to draw at least $1,000 in individual contributions outside of Minnesota in seven states during this past quarter, led by Maryland ($7,750), Texas ($5,950), California ($4,800), Florida ($3,250), New York ($2,950), Viginia ($1,750), and North Carolina ($1,000). Overall, individuals from 17 states plus the Virgin Islands sent funds to Bachmann – virtually identical from the geographic distribution in Q1 2008 (16 states plus D.C.).
The second key story to come out of the recently released FEC report is that Congresswoman Bachman's national profile seems to be generating an increasing percentage of contributions from individuals, as opposed to PACS.
In Q1 2007, 45.3 percent of Bachmann's funds came from political action committees, with just 54.7 percent donated by individuals. Contributions by individuals increased to 69.2 percent in Q1 2008 and to 80.4 percent during this past quarter.
Michele Bachmann First Quarter Campaign Contributions by Type, 2005-2009
Type

2005

2006

2007

2008

2009

% Individuals

100.0

96.6

54.7

69.2

80.4

% PACS

0.0

2.5

45.3

30.8

19.6

% Pol. Party Committees

0.0

1.2

0.0

0.0

0.1
Note: FEC data compiled by Smart Politics.
In short, Congresswoman Bachmann's increased profile is generating her more support at the grass roots level – particularly in Minnesota. This growth can be seen by the fact that Bachmann raised 77.3 percent more money in contributions from individuals in Q1 2009 than in Q1 2007. Bachmann even raised 5.0 percent more money from individuals in Q1 2009 than in Q1 2008 – an election year.
Based on these strong financial numbers, one would expect Representative Bachmann to continue her frequent media appearances through the second quarter of 2009 and beyond.
UPDATE: The first two tables have been updated to reflect itemized contributions only (contributions of at least $200).
Follow Smart Politics on Twitter.