Is Conservatism on the Rise in Minnesota and the Upper Midwest?
While the last two election cycles have seen Upper Midwestern Republicans lose seats in state legislatures, lose seats to the U.S. House, and lose statewide elections for the U.S. Senate and the presidency, the conservative brand seems to be catching fire once again.
A Smart Politics analysis of more than 160 polls conducted in Minnesota, Iowa, and Wisconsin finds that the percentage of residents identifying themselves as having a conservative political ideology has been on the rise in each state since 2007.
The pattern is the same for each state: over the past 5 years, conservatism reached its peak in 2005, right after the 2004 elections. In 2005, one-third (33.4 percent) of Minnesota residents identified themselves as conservative, in a yearly aggregation of SurveyUSA polling data. That number was slightly higher for conservatives in Wisconsin (36.0 percent) and Iowa (36.6 percent).
In 2006, the percentage of Minnesotans identifying as conservatives plunged 5.3 points (15.9 percent) to just 28.1 percent of Gopher State residents. Self-identified conservatives in Iowa also declined by 5.1 points (13.9 percent) to 31.5 percent that year, with the largest drop occurring in Wisconsin, with a 6.1-point decline (16.9 percent) to 29.9 percent. In that November's election cycle, Republicans lost control of the Minnesota House, the Iowa House, the Wisconsin Senate, as well as three U.S. House seats (MN-01, IA-01, WI-08).
The percentage of residents identifying as conservatives declined again in 2007, by 1.6 points in Minnesota (to 26.5 percent), by 3.0 points in Iowa (to 28.5 percent), and by 2.2 points in Wisconsin (to 27.7 percent).
However, during the last two years, conservatism seems to be mounting a comeback in the Upper Midwest, even though the 2008 election cycle saw Republicans lose control of the Wisconsin Assembly, and lose additional seats in the Minnesota House, Minnesota Senate, Iowa House, and Iowa Senate.
In Minnesota, those Gopher State residents identifying as conservative increased by 1.3 points in 2008 (to 27.8 percent) and by another 1.2 points to 29.0 percent in an aggregation of polling data through the first five months of 2009. This marks the largest percentage of Minnesotans viewing themselves as conservative since 2005.
In Iowa and Wisconsin, the conservative resurgence has been even more pronounced.
In the Hawkeye State, the percentage of those viewing themselves as politically conservative rose by 1.3 points in 2008 (to 29.8 percent) and by 3.0 points so far in 2009 (to 32.8 percent).
In Wisconsin, there was a 3.9-point increase in self-identified conservatives in 2008 (to 31.6 percent) and a 1.7-point increase thus far in 2009 (to 33.3 percent).
In all three states, conservatism is at its highest peak over the last four years.
A plurality of residents in each of the three Upper Midwestern states view themselves as politically moderate – averaging 45.3 percent in Minnesota, 42.4 percent in Iowa, and 41.1 percent in Wisconsin during this five-year span.
Still, conservatives outnumber liberals by a large margin in all three states. In 2009, there are 1.6 conservatives for every liberal in Minnesota, 2.0 conservatives for every liberal in Wisconsin, and 2.1 conservatives for every liberal in Iowa.
Whether or not Republicans will be able to tap into this resurgence of the conservative brand in 2010 remains to be seen – as they failed to do so at the onset of this surge in the 2008 elections.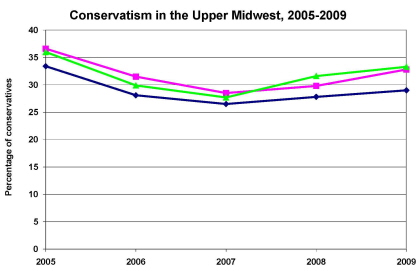 Note: SurveyUSA polling data from Minnesota (60 polls), Iowa (49 polls), and Wisconsin (52 polls) compiled by Smart Politics.
Follow Smart Politics on Twitter.