Fact Check: Is Stephanie Herseth Sandlin a "Radical Liberal?"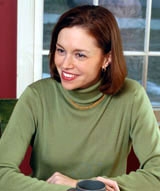 Last Thursday the South Dakota Republican Party launched a new website called "Stop Stephanie," designed to attack 4-term At-large Democrat U.S. Representative Stephanie Herseth Sandlin.
Herseth Sandlin – a virtual lock for a 5th term should she decide to run again in 2010 – is also a rumored candidate for South Dakota's open gubernatorial seat (GOP Governor Tim Rounds is term-limited). Herseth's grandfather, Ralph Herseth, is one of only four Democrats to have won a gubernatorial race (1958) in South Dakota since statehood.
On the new website, the South Dakota Republican Party vows to "highlight the radical liberal voting record" of the Congresswoman. "Twenty years in Washington, DC, has changed Stephanie Herseth Sandlin," said South Dakota Republican Party Chairman Bob Gray. "Her rhetoric in South Dakota simply does not match her voting record in Washington."
But does Representative Herseth Sandlin have a "radical liberal" voting record?
Unless the South Dakota Republican Party views every Democrat in Washington, D.C. as a radical, there is little evidence to support this charge.
First, Herseth Sandlin is a member of the 51-member conservative Democratic Blue Dog Coalition on the Hill, along with other Upper Midwestern conservative Democrats like Minnesota's Collin Peterson, Iowa's Leonard Boswell, and North Dakota's Earl Pomeroy. Herseth is also the Blue Dog Co-Chair for Administration.
Secondly, National Journal's analysis of key votes in their annual vote rankings consistently finds Herseth Sandlin to be among the two-dozen most conservative Democrats in the House.
In fact, as more Democrats have been elected to the House, Herseth Sandlin's liberal ranking has dropped from #177 in 2004, to #182 in 2005 and 2006, to #204 in 2007, to #216 in 2008.
In 2008, the Congresswoman actually had a higher conservative than liberal ranking, at #212, with only 14 Democrats in the House having a more conservative voting record that year according to National Journal's analysis.
Stephanie Herseth Sandlin National Journal Vote Record Ranking, 2004-2008
Year

Liberal rank

Conservative rank

More conservative Democrats

2008

216

212

14

2007

204

224

24

2006

182

247

19

2005

182

254

25

2004

177

251

24
Note: National Journal data compiled by Smart Politics.
Since winning a 2004 special election on June 3, 2004 by 1.8 points, Herseth Sandlin has been reelected by 7.5 points in November 2004, 39.8 points in 2006, and 35.1 points in 2008.
Follow Smart Politics on Twitter.