Minnesota U.S. Senate Race Still Fodder for Late-Night Comedians

Now seven and a half months out from Election Day, the U.S. Senate contest between DFLer Al Franken and Republican Norm Coleman is still providing a few yucks on late-night television.
In recent weeks, Bill Maher has been a virtual Norm Coleman joke factory on his Real Time with Bill Maher program on HBO. The (left-leaning, quasi-libertarian) Maher has been using the controversial elections in Iran as a springboard for digs at Coleman's expense.
On his June 12th program, Maher said:
"They had elections today in Iran. Apparently it's still too close to call. They say if the vote is still close by tomorrow there'll be a runoff election next week, and then the usual series of lawsuits by Norm Coleman."
Maher's joke evoked sparse laughter and only a smattering of applause, which prompted him to surmise:
"I think that's exactly half the audience who knows who Norm Coleman is."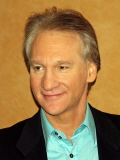 Unswayed, Maher continued to use the Iranian elections as a template for his commentary about the lengthy Minnesota Senate contest on the most recent episode of Real Time airing last Friday:
"The supreme leader Ayatollah Khamenei – not Ayatollah Khomeini – Ayatollah Khamenei, totally different dude, right. He said, "This election was not rigged, the results are final, and you can protest all you want, but if you keep doing it we're going to start cracking heads." (pause) Now if we can only get this guy to call Norm Coleman."
At which point there was only a handful of knowing chuckles, which prompted Maher to proclaim:
"I'm going to keep doing Norm Coleman jokes until people find out who the f*** he is! I don't care. I don't care."
Real Time is off the air for the next few weeks, so it will be interesting to see if Maher takes a third stab at Coleman should the Minnesota Supreme Court make a ruling on his lawsuit during the interim.
Follow Smart Politics on Twitter.