Why Doesn't Amy Klobuchar Run for Governor?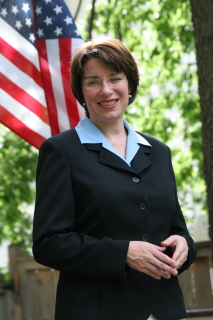 Despite overwhelming success in federal and state elections during the past few decades, the DFL may have missed its best chances (in 1998, 2006) to win a gubernatorial election in the Gopher State.
Excluding gubernatorial contests, the DFL has won 72 percent of statewide elections (21 of 29) since the Election of 1986, when the DFL last won a governor's race with Rudy Perpich. During that span, the DFL has also won 66 percent of US House races (58 of 88), 62 percent of state Senate contests (261 of 424), and 54 percent of state House races (813 of 1,502).
With Republican Governor Tim Pawlenty's announcement that he would not seek a third term, the floodgates have opened for both former and current city (R.T. Rybak, Chris Coleman), county (Susan Gaertner), state (Tom Bakk, Matt Entenza, John Marty, Margaret Anderson Kelliher, Paul Thissen, Marty Siefert, Laura Brod, Bill Hass, David Hann, Paul Koering, Paul Kohls), and federal (Mark Dayton) DFL and GOP officeholders to explore or outright announce their gubernatorial candidacies.
But there is one officeholder who would certainly "clear the field" of candidates on the DFL side of the ticket, and that is U.S. Senator Amy Klobuchar. Although Norm Coleman's name has been (all too casually) tossed about as a potential GOP candidate, there have been few public efforts to "recruit Amy" by DFLers.
Statewide, Klobuchar is the most popular DFL officeholder the party has produced in decades. The Senator's approval rating is one of the highest in the US Senate – and also one of the most consistent. A Smart Politics analysis of SurveyUSA data finds Klobuchar's approval rating has hovered between 58 and 63 percent in 21 straight polls dating back to July 2007.
During that span the approval ratings of some of her neighboring Senators have fluctuated wildly:
· This year Wisconsin senior Senator Herb Kohl saw his approval rating drop from 64 percent (in January) to 50 percent (in March) during the state's economic crisis.
· Wisconsin junior Senator Russ Feingold's approval rating dipped to as low as 48 percent in September 2008, before rebounding to 61 percent in January 2009, and then falling in May back to 53 percent.
· Iowa senior Senator Charles Grassley has seen his 71 percent approval rating in February dip to 58 percent in May, due in part to some controversial comments.
· Iowa junior Senator Tom Harkin saw his 63 percent approval rating he received one month after getting elected in November 2008 drop to 51 percent in April 2009.
So, why doesn't Klobuchar make a run at what would appear to be a clear path to the Governor's mansion?
First of all, it is quite likely that Klobuchar (her double-duty constituency caseload aside) enjoys her work at the nation's Capitol. The Senator has smartly not used her 2006 landslide victory to pursue an extremely liberal agenda, which has perhaps contributed to her sustained appeal among moderates and liberal Republicans (National Journal rated Klobuchar as the 37th most liberal and 60th most conservative Senator in 2008).
Secondly, it might seem a bit politically unseemly for Klobuchar to run for governor without having first completed the 6-year term to which she was elected. At the moment, given the unresolved 2008 U.S. Senate contest, Klobuchar is also in many ways 'trapped' in her D.C. job. To announce her candidacy for governor at a time when the Gopher State needs her the most in Washington (having only one Senator on the payroll), would not be politically prudent.
The problem for Klobuchar, should she ever have such ambitions to run for governor, is that the election for her U.S. Senate seat does not coincide with a gubernatorial election until 2018.
The general rule of thumb is that most politicians want to join the most exclusive club to which they can receive membership. This is why Vice-President Joe Biden (1 of 1) and Secretary of State Hillary Clinton (1 of 15) chose to become members of President Barack Obama's Cabinet rather than remain in the Senate (1 of 100). The Governor's Club (1 of 50), while not as exclusive, is still twice as exclusive as being a U.S. Senator.
And while Klobuchar has already achieved one previously unprecented accomplishment in the Gopher State – the first female elected U.S. Senator – it is not unfathomable that she has also thought about another first: becoming MInnesota's first female governor (let alone the first major party female gubernatorial candidate).
But for now, and perhaps for quite some time, all is quiet on the eastern front, and "RecruitAmy.com" domain names remain readily available.
Follow Smart Politics on Twitter.