What Goes Up, Goes Down Slowly: A Long Road to Recovering Job Losses in Minnesota
With new unemployment numbers set to be released on Thursday, Minnesotans are bracing for news as to whether the state will continue to follow the leveling-off pattern of job losses from the last 3 months, or whether unemployment will rise closer in line to the nation overall (currently at 9.5 percent).
In January and February of this year, the Gopher State was tracking the national jobless rate very closely – just 0.1 percentage point below the U.S. level at 7.5 and 8.0 percent respectively during those two months.
At that point, while the national jobless rate continued to rise – 8.5 percent in March, 8.9 percent in April, 9.4 percent in May, and 9.5 percent in June – Minnesota's rate has been fairly flat: 8.2 percent in March, 8.0 percent in April, and 8.2 percent in May.
However, even if the Minnesota economy has bottomed out of its current crisis and is starting to rebound, history suggests it will take years, perhaps even a decade to fully recover from all the jobs lost during the recent recession.
Although the unemployment rate did not really begin to make headlines in the Gopher State until after the November election (rising a half a percent in both November and December), the current upward arc in state job losses began all the way back in June 2006. At that time, the seasonally adjusted unemployment rate was just 3.8 percent. However, over the course of the next 35 months, the rate increased in 21 months, held steady in 9 months, and decreased in just 5 months.
As a result, by June 2007 the jobless rate was up to 4.5 percent. By June 2008 it reached 5.3 percent. And, by May 2009 it reached 8.2 percent.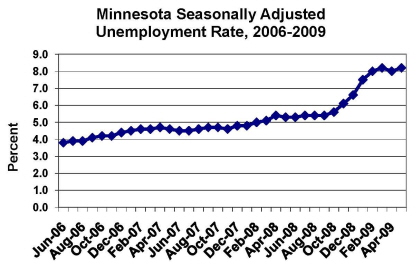 While this rate of increase in unemployment has been unprecedented, there is no guarantee that the rate of decrease in job losses will be quite so swift. In fact, recent history suggests the recovery will take a much longer time to play out.
The last time Minnesota's unemployment rate was at its current level of a shade above 8 percent was May 1983 (8.3 percent). At that time, the Gopher State was already in the midst of a recovery from the recession in Ronald Reagan's first term where peak jobless levels in Minnesota reached 9.0 percent in November 1982.
The escalation of Minnesota's unemployment rate had only taken a bit longer to reach the 8+ percent mark during that economic crisis – rising from 3.8 percent in March 1979 to 8.0 percent in June 1982: a period of just 3 years and 3 months (it took 2 years and 8 months during the current recession to escalate that quickly).
However, after declining back down to 8.3 percent in May 1983, Minnesota did not return to the pre-recession unemployment rate of 3.8 percent until November 1994 – some 11 years and 6 months later.
At that rate (assuming Minnesota has reached its peak jobless levels now), Minnesota will not see the return to its 3.8 percent pre-recession unemployment level until November of 2020.
Continue to visit Smart Politics for more in-depth historical analysis of the economic recessions facing Minnesota, Iowa, Wisconsin, and the Dakotas.
Follow Smart Politics on Twitter.