How Do Politicians Use Twitter? A Case Study of Rep. Laura Brod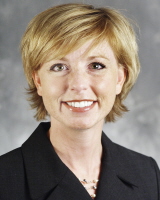 Minnesota politicians (and the news media) increasingly used Twitter to communicate to their respective audiences during the 2009 legislative session in St. Paul. Some news outlets, such as Politics in Minnesota, tweeted thousands of policy updates and commentaries on the burgeoning social network, while politicians used it, at times, as a medium to communicate instantaneously from the legislative chamber to the outside world.
The focus on legislators using Twitter usually arises when one of them gets into trouble, such as the ethics complaint filed against Representative Paul Gardner (DFL-Shoreview) this spring for his comments via Twitter against Rep. Tom Emmer (R-Delano) and Rep. Mark Buesgens (R-Jordan) during session.
But these are isolated examples. The bigger question is how are politicians choosing to use Twitter over the course of weeks and months? To what extent is Twitter used for overtly political purposes?
In seeking to answer this question, Smart Politics conducted a content analysis of all 307 tweets by one of the state legislatures most active Twitter users, and most recognizable Republican leaders, Representative Laura Brod (R-New Prague).
Brod is one of several Minnesota legislators who took to using Twitter this session, including Pat Garofalo (R-Farmington), Larry Hosch (DFL-St. Joseph), John Lesch (DFL-St. Paul), former House Minority Leader Marty Seifert (R-Marshall), and Paul Thiesen (DFL-Minneapolis).
Brod began tweeting on March 21st of this year and now has 578 followers.
Smart Politics' study finds Representative Brod utilized Twitter to communicate five distinct sets of messages to her followers, each of which to varying degrees:
1) Her family life and personal musings
2) Her work schedule
3) Comments on policy and specific legislation
4) The legislative process at the Capitol
5) Comments about fellow politicians, local and national
Rep. Laura Brod Tweets by Category, March 21-July 13, 2009
| | | |
| --- | --- | --- |
| Issue | Number | Percent |
| Policy issues | 142 | 46.3 |
| Personal life and musings | 53 | 17.3 |
| Legislative process | 53 | 17.3 |
| Work schedule | 21 | 6.8 |
| Commentary about politicians | 20 | 6.5 |
| Other | 18 | 5.9 |
| Total | 307 | 100.0 |
Note: Data compiled by Smart Politics.
Brod spent a plurality of her time on Twitter discussing substantive policy issues (as substantive as one can get, that is, in 140 characters or less), with 142 of her 307 tweets falling into this category (46.3 percent).
Taxes were the most common policy issue about which Brod tweeted, with 49 posts on that subject. Brod is a strong advocate against tax increases, as evidenced in this April 23rd tweet:
· House tax bill has more losers than winners starting at $48,625 of income… tax fairness? Huh… not my definition of fairness.
But Brod also takes playful digs at those who would raise taxes:
· Will be sitting in committee listening to multitude of tax increases proposed by democrats on tax day (April 15th)
· An oldy but goody from my dad … Did you ever notice: When you put the 2 words 'The' and 'IRS' together it spells 'Theirs…' (July 6th)
Brod also tweeted 27 times on health care policy and 18 times railing against state spending:
· last i checked, compassion is not defined by government spending of someone else's money (April 24th)
· You would have to spend an additional $3.1 million per second for the next 166 minutes to generate a $31 billion budget. (May 18th)
Rep. Laura Brod Tweets on Policy Issues, March 21-July 13, 2009
| | | |
| --- | --- | --- |
| Policy Issue | Number | Percent |
| Taxes | 49 | 34.5 |
| Health care | 27 | 19.0 |
| Spending | 18 | 12.7 |
| Housing and property | 10 | 7.0 |
| Energy | 7 | 4.9 |
| Election reform | 6 | 4.2 |
| Jobs | 6 | 4.2 |
| Education | 6 | 4.2 |
| Smoking | 4 | 2.8 |
| Seatbelts / booster seats | 4 | 2.8 |
| Abortion | 2 | 1.4 |
| Public safety | 2 | 1.4 |
| Veterans | 1 | 0.7 |
| Total | 142 | 100.0 |
Note: Denotes percentage of policy issue tweets only. Brod tweeted on non-policy subjects in approximately 53 percent of her posts. Data compiled by Smart Politics.
Brod also used Twitter to comment on the legislative process – tweets that were often critical of the DFL leadership's decision-making during the session:
· why can't the majority just vote on amendments.. . rather than amend amendments to avoid votes (April 22nd)
· Democrats putting out "cover" amendments… people see through that… they will have to live with their final vote (April 25th)
Brod's concluding remarks on May 19th were succinct:
· not a graceful end of session
Overall, Brod tweeted 53 times on the legislative process, or 17.3 percent of her posts.
On some occasions (20 tweets, 6.5 percent), Brod also chose to target specific politicians in her tweets. Many of these were jabs at DFL Majority Leader Tony Sertich:
· Sweet…. Sertich is being a Page and handing out amendments.. I wonder if we can have a Page play Sertich! Thanks Tony! (April 27th)
· Sertich called a recess…. I wonder whether he prefers to jump rope or swing?! 🙂 (April 22nd)
While the focus of her tweets was state politics, sometimes Brod could not resist commenting on the D.C. scene:
· Arlen Spector to switch parties… you mean he hasn't already done that through his actions? (April 28th)
But Representative Brod's use of Twitter is not exclusively about politics and policy making at the Capitol. Nearly one-fifth of her tweets (53, 17.3 percent) were on her personal life and musings. Nineteen tweets were on her own family, with a particular focus on her children:
· The kids started the end of year school countdown this morning…. Yikes! (May 26th)
· just got back from playing tennis. Both kids played great! I, however, am out of shape! (May 3rd)
· the kids hit jackpot today-found a huge patch of wild raspberries on the edge of our yard. They ate many, but even brought some in the house (July 13th)
There is no doubt a strategic purpose to such tweets. Twitter is an on-line, edited 'diary' of sorts on which Brod can give her followers a glimpse into parts of her personal life – it both humanizes her and also permits her to (playfully) comment on her life as a working mother.
The beauty and danger of Twitter is that the user is its own editor. As such, there is not necessarily 'newsworthiness' to all tweets, as Representative Brod displays in several personal musings:
· It is FREEZING in here!!! (April 29th)
· Chocolate brownie fudge Ben and Jerry's . . . yum! (May 3rd)
· Tobies Cinnamon rolls. . . doesn't get much better! If you have not tried them, you should!! (June 11th)
· is mulling whether eating oatmeal in the morning means I am getting old or staying young… (April 26th)
· bright, sunny, Spring morning. . . nothing better! (April 24th)
But Rep. Brod also uses Twitter not only for political and personal commentary, but also as a way to reach her constituents and inform them of her work schedule and public engagements. Brod tweeted 21 times (6.8 percent) informing her followers as to her various public events and meetings, such as:
· off to a meeting with the LeSueur Chamber of Commerce (May 20th)
· off to the Annual Breakfeast on the Farm for Community Days! (June 19th)
· is off to the Miss Czech MN pageant (April 4th)
· great turnout at rally in Albert Lea! (May 6th)
· heading to say hello to the Watonwan County Republicans in St James (April 4th)

How will Representative Brod continue to use Twitter in her future political career and campaigns?
Brod is on the (not so) short list of possible GOP gubernatorial candidates in 2010, though she has temporarily suspended any potential plans to jump in the race due to some health concerns.
Follow Smart Politics on Twitter.