Bachmann Outraises McCollum in 4th CD; Nearly Outraises Ellison in 5th CD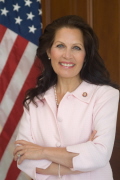 A Smart Politics analysis of FEC data for the 2nd Quarter of 2009 finds 6th District Republican Congresswoman Michele Bachmann raised more individual itemized contributions in the home districts of two of her fellow DFL colleagues, and nearly as much money in the home districts of two other DFLers.
Representative Bachmann received nearly two-thirds of the $130,975 she raised from individual itemized contributions this past quarter from residents of the Gopher State – a higher percentage than Betty McCollum (DFL-05, 50.2 percent), Keith Ellison (DFL-06, 19.6 percent), Collin Peterson (DFL-07, 41.4 percent), and Jim Oberstar (DFL-08, 0.0 percent).
Bachmann raised more money in-state than all but one of her U.S. House colleagues from Minnesota (GOPer Erik Paulsen), but her fundraising skills were not limited to the 6th District.
In fact, Bachmann raised more than nine times as much money in Representative Betty McCollum's 4th Congressional District than did the 5-term Congresswoman McCollum herself. Bachmann received $17,650 from 19 individual itemized donors in the 4th District last quarter, with McCollum only raising $1,825 from 8 donors.
Bachmann also raised more of such large donor funds in the 8th Congressional District than did 18-term Congressman Jim Oberstar. While Bachmann raised only $800 in the 8th District last quarter, Oberstar did not receive any large donor funding from his home district (Oberstar also failed to receive any such contributions statewide).
Congresswoman Bachmann also nearly outperformed her DFL colleagues Keith Ellison and Collin Peterson in their respective districts. Ellison raised $8,700 in individual itemized contributions in the 5th District last quarter, with Bachmann raising $7,250 in Ellison's back yard. In the 7th District, 10-term Congressman Peterson raised only $3,450 more than Bachmann ($5,950 to $2,500).
Bachmann also raised a larger percentage of such funds from her own district than did these four DFL representatives.
The Congresswoman received $28,525 in individual itemized donations in her own district, or 21.8 percent of all large donor contributions she received nationwide. This is more than double the percentage raised by McCollum (7.8 percent) and Ellison (9.2 percent) in their respective districts. Peterson raised 20.3 percent of his large donor funds from his district. Oberstar did not raise any such money in district (or in state) last quarter.
Perhaps the most dramatic way to slice the data is as follows:
The total sum in large donor individual contributions raised by McCollum, Ellison, Peterson, and Oberstar in their respective home districts ($16,475) was less than 60 percent of the amount Bachmann received from residents in these four DFL districts ($28,200).

Follow Smart Politics on Twitter.