The Honeymoon Is Over: Obama Approval Rating Drops to 51 Percent in Minnesota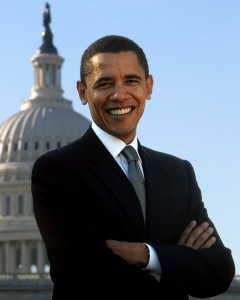 After six consecutive months of notching approval ratings between 59 and 65 percent in the Gopher State, President Barack Obama's job performance numbers haven taken a nose-dive in July, in not only Minnesota, but other key battleground states as measured by the polling firm SurveyUSA.
SurveyUSA's latest monthly poll was conducted last week of 600 adults in Minnesota plus twelve other states, including Iowa and Wisconsin. Polling was conducted several days before Obama's nationally televised press conference on Tuesday evening.
Obama finds his approval numbers in July at just 51 percent in the Gopher State – down 8 points from 59 percent in June, down 10 points from 61 percent in May, and down 12 points from 63 percent in April. Overall, that represents a 19 percent erosion of his support in Minnesota in just three months.
Obama's disapproval rating of 46 percent also marks a 10-point increase from 36 percent in June.
Minnesota is one of four states tracked by SurveyUSA which has given Obama lower and lower marks in each of the last three months. Obama has also seen his numbers fall consecutively in Alabama (from 48 percent in April, to 47 percent in May, to 46 percent in June, to 42 percent in July), Kentucky (52, 51, 47, 41), and New York (73, 72, 65, 63).
Prior to July, Minnesotans had demonstrated the most stable views of the President's job performance of the 13 states tracked by SurveyUSA every month this year – fluctuating by only five percentage points from January through June. Only Washington (7 points) and Virginia (8 points) had also seen single digit fluctuation during this span.
July's polling results, however, measure a drop in approval ratings for Obama in 10 of the 13 states, with a net approval rating drop of 3.7 points – the largest cumulative decline since February.
The President endured statistically significant declines in his approval rating this month in states such as Virginia (from 59 percent in June to 44 percent in July), Wisconsin (59 to 50 percent), Kansas (49 to 41 percent), and Washington (63 to 56 percent).
Obama's job performance rating in the Upper Midwestern states of Minnesota, Iowa, and Wisconsin is now at a collective all-time low of 52.3 percent. The net 6.0-point drop from June to July in the three-state region is also the largest since Obama took office in January.
Barack Obama Upper Midwestern Approval Ratings, 2009
Month

Iowa

Minnesota

Wisconsin

Average

January

68

64

70

67.3

February

63

62

60

61.7

March

57

61

53

57.0

April

59

63

56

59.3

May

66

61

57

61.3

June

57

59

59

58.3

July

56

51

50

52.3
Obama did see his approval rating increase in three states, by a statistically insignificant two points in California (to 66 percent), by four points in Missouri (to 55 percent), and by eight points in New Mexico (to 61 percent).
Across the 13 states tracked by SurveyUSA, Barack Obama's approval rating is now collectively lower than the percentage of the vote he received in these respective states for the first time in his administration.
Barack Obama Collective Approval Rating Vis-à-vis Presidential Vote Across 13 States, January-June 2009
Month

Approval

Vote

Difference

January

66.9

52.5

+14.4

February

58.9

52.5

+6.4

March

58.8

52.5

+6.3

April

58.5

52.5

+6.0

May

58.8

52.5

+6.3

June

56.0

52.5

+3.5

July

52.3

52.5

-0.2
Note: The thirteen states tracked by SurveyUSA are Alabama, California, Iowa, Kansas, Kentucky, Minnesota, Missouri, New Mexico, New York, Oregon, Virginia, Washington, and Wisconsin. Aggregate approval ratings were compiled for each month across the thirteen states and compared to the average vote Obama received in the presidential election in these states.
Follow Smart Politics on Twitter.