Republican Party ID Matches Democrats for First Time in Minnesota Since October 2005

The latest monthly SurveyUSA poll finds more Gopher State residents identifying as Republicans than at any point in more than four years.
The new poll, conducted July 17-19 of 600 adults statewide, also finds Republicans now match the Democrats in party ID for the first time since October 2005. The poll has a margin of error of +/- 4.1 points.
The SurveyUSA poll finds 34 percent of Minnesotans now identify as Republicans – the largest percentage enjoyed by the GOP in 63 surveys conducted by the organization dating back to its inaugural tracking poll in May 2005, when 35 percent identified as Republicans.
In fact, Republicans had only reached the 30 percent mark in just 7 of the previous 42 statewide surveys conducted by the polling organization since January 2007.
Democrats have held advantages over the GOP in party ID of moderate to large margins since late 2005. The percentage of residents identifying as Democrats in Minnesota had even eclipsed the 40 percent mark nine times since the 2006 election – and as recent as April and June of 2009.
The Democratic slide – and Republican gain – in party ID may be tied to the slipping approval ratings of President Barack Obama. Obama's approval numbers were measured at an all-time low of 51 percent in July by SurveyUSA, down eight points from June. Obama's slippage was tracked in several states, and SurveyUSA also reports that Republicans appear to be making inroads in other battleground states, such as Virginia – where Republicans hold double digit leads in a new round of election matchups for three statewide offices, including Governor, on the ballot this fall.
In Minnesota, Republicans had endured double-digit net deficits to the Democrats in party ID in four polls this year: -15 points in January, -12 points in March, -13 points in April, and -13 points in June.
Democrats had not only enjoyed a net advantage over the GOP in party ID during each of the previous 58 SurveyUSA polls, but had seen double digit advantages in nearly half of them (26).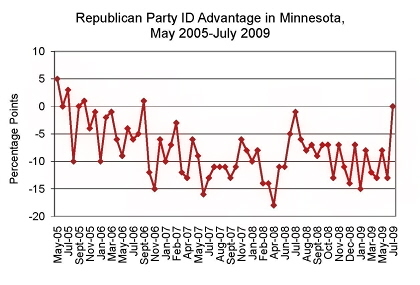 The 34-34 split in party ID in Minnesota this month is just the sixth time Republicans have matched or bested the Democrats statewide in 63 polls since May 2005. Prior to July, Democrats had averaged an 11.5-point party ID advantage in 2009, improving on its 9.4-point average in 2008, 10.0-point average in 2007, and 6.3-point average in 2006.
Republicans had even trailed independents statewide in 30 of these 63 polls over the last 4+ years. The GOP has enjoyed larger numbers than independents in Minnesota in five consecutive surveys.
The gains in party ID statewide may also be catching up to the recent, gradual increase in conservative ideology in Minnesota observed by Smart Politics earlier this year.
Follow Smart Politics on Twitter.