Is Barack Obama the World's President?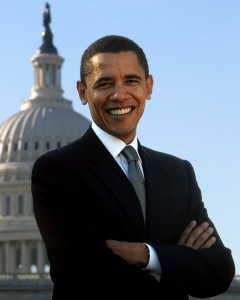 With Monday's news conference in Guadalajara, Mexico with Mexican President Felipe de Jesús Calderón Hinojosa and Canadian Prime Minister Stephen Harper, President Barack Obama continues to build on his record number of press conferences held outside of the United States.
Through his first 6 months and 20 days in office, Obama held 14 press conferences out of the country, more than any other president during their first 200 days in office, and nearly more than all other presidents combined during that length of time (18).
Obama has now held news conferences in Canada (February), the United Kingdom (twice in April), France (twice in April and once in June), Germany (April and June), Turkey (April), Mexico (April and August), Trinidad and Tobago (April), Russia (July), and Italy (July).
President Obama, to be sure, campaigned in part on the issue of restoring the image of the United States around the world, and these international news conferences (and the President's frequent meetings and visits abroad generally) fit into that overall plan.
In a Smart Politics study of presidential administrations since Herbert Hoover in 1929, the only other president to have held a substantial number of press conferences outside the United States during his first 200 days in office was Obama's predecessor, George W. Bush. Bush held such press conferences in Mexico, Canada, Spain, Belgium, Sweden, Poland, Russia, the United Kingdom, and Italy (twice) through mid-August of his first year in office.
The only other presidents since Hoover to have held news conferences abroad during the first 200 days of their administration were Bill Clinton (4 times) and George H.W. Bush (4 times). (This is due in some part to the advances in air travel that have been made during the latter part of the 20th Century. FDR was the first president to fly in a plane while in office, for his 1943 trip to Morocco during World War II).
But despite charges from conservatives that the (domestic) media has a "love affair" with the President, the feeling may not be mutual: Obama is not on record pace in terms of the number of news conferences he has held so far in his first term.
President Obama has held 22 news conferences to date, which is good for only the fourth most since Hoover during a president's first 200 days in office – behind Hoover (52), Harry Truman (30), and Clinton (23). Ronald Reagan (3) held the fewest number of press availabilities, though his medical recovery from the attempted assassination played a role in that low tally.
Moreover, Obama's mere 8 press conferences held inside the United States is tied for the fourth lowest (with FDR) among the 14 presidents since Hoover. Only Reagan (3), George W. Bush (4), and Richard Nixon (6) held fewer during their first 200 days in office.
Presidential News Conferences Held During the first 200 Days in Office (Hoover through Obama)
President

Total

Outside US

Joint

Barack Obama

22

14

13

George W. Bush

14

10

11

Bill Clinton

23

4

15

George H.W. Bush

19

4

1

Ronald Reagan

3

0

0

Jimmy Carter

13

0

0

Gerald Ford

10

0

1

Richard Nixon

6

0

0

Lyndon Johnson

19

0

0

John F. Kennedy

14

0

0

Dwight Eisenhower

14

0

0

Harry Truman

30

0

0

Franklin Roosevelt

8

0

0

Herbert Hoover

52

0

0
Note: Data compiled by Smart Politics.
George W. Bush, who was frequently reported to be uncomfortable in press conference settings, held the largest percentage of joint news conferences during his first 200 days in office (79 percent). Only 3 of Bush's first 14 news conferences were held with the President fielding questions by himself.
Follow Smart Politics on Twitter.