Al Franken Receives First Grade As U.S. Senator: Minnesotans Split Down the Middle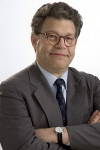 As DFL Senator Al Franken inched into office by the narrowest of margins, both he and 2008 Republican opponent Norm Coleman endured negative net favorability ratings as their expensive, and frequently brutal campaigns gained neither candidate favor with a majority of Minnesotans.
A few weeks out from Election Day saw unfavorable numbers for Franken rise to 53 percent in a December Rasmussen poll, with that number increasing to an all-time high of 55 percent in mid-May in the midst of Coleman's lawsuit (even though Minnesotans believed by a 4:1 margin that Franken would ultimately be named the winner of the race).
Shortly after Coleman's concession speech in late June, Franken was able to drop the "elect" from his title, and now Minnesotans have weighed in on their first opportunity to rate his performance as a Senator in Washington, D.C.
A newly released SurveyUSA poll conducted only two weeks into Franken's tenure finds Minnesotans unsurprisingly divided about how he is conducting himself as their Senator in Washington. The poll finds 43 percent of Gopher State adults approving of his job performance and 45 percent disapproving.
A recent Smart Politics analysis of Franken's colleague Amy Klobuchar found her approval ratings approaching a career low at 54 percent in July. Overall, many Democratic and Republican Senators have seen their approval ratings take a hit this year in light of the nation's economic and budget troubles.
Still, Franken begins his second month in office with one of the worst net approval ratings among newly elected members to the Senate in recent years.
A Smart Politics analysis of SurveyUSA data finds only Virginia Democratic Senator Jim Webb to have notched a lower net approval rating in his first month in office than Franken, of the nine Senators tracked by SurveyUSA who have entered office since January 2007.
By comparison, Senator Klobuchar's first ratings in January 2007 found her with a +26 net approval rating, with 56 percent approving of her early job performance and just 30 percent disapproving.
Net Approval Rating of Recently Elected U.S. Senators (Tracked by SurveyUSA)
State

Senator

Date

Approve

Disapprove

Net

VA

Mark Warner

1/09

67

20

+47

NM

Tom Udall

1/09

63

24

+39

MN

Amy Klobuchar

1/07

56

30

+26

OH

Sherrod Brown

1/07

47

32

+15

MO

Claire McCaskill

1/07

50

40

+10

OR

Jeff Merkley

1/09

42

34

+8

NY

Kirsten Gillibrand*

2/09

41

33

+8

MN

Al Franken

7/09

43

45

-2

VA

Jim Webb

1/07

42

47

-5
Note: Gillibrand was appointed to her seat. SurveyUSA data compiled by Smart Politics.
Still, Franken's low approval rating should not surprise political observers as the DFLer only received 42 percent of the vote last fall – virtually identical to the percentage of those now approving of his job performance (43 percent).
Similarly Senator Klobuchar received 58 percent of the vote in November 2006, which is about on par with her 56 percent approval rating in January 2007 just a few months later.
Follow Smart Politics on Twitter.