Obama Approval Rating Holds in Minnesota, Plummets in Iowa and Wisconsin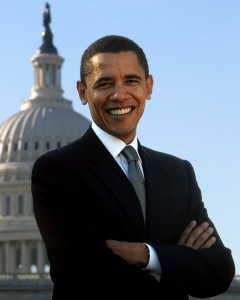 Although Barack Obama's approval rating has taken an (expected) hit in Minnesota since the beginning of his term, a hit all presidents endure, a new SurveyUSA poll finds Gopher State residents much more patient with the new Democratic president than many states across the nation.
A poll of 600 adults, conducted August 26-27 by SurveyUSA, finds 53 percent of Minnesotans approve of the President's job performance, up a statistically insignificant 2 points from July. Forty-four percent disapproved of Obama's job performance.
What is particularly noteworthy is that Obama's approval rating dropped in August in 10 of the 13 states tracked each month by SurveyUSA, and by an average of 3.8 points.
In fact, Obama dipped to record lows in the neighboring states of Iowa and Wisconsin in the new round of surveys.
In Iowa, only 45 percent of adults give Obama positive marks this month, down a significant 11 points from July. Fifty-four percent disapprove. Likewise, in Wisconsin, just 45 percent approve of Obama's job performance, down from 50 percent in July. Fifty percent disapprove.
Obama's rating also dipped to record lows in the states of Alabama (40 percent), California (62 percent), Kentucky (36 percent), Missouri (48 percent), New Mexico (52 percent), New York (58 percent), Virginia (42 percent), and Washington (51 percent).
Perhaps it is due to Minnesota's culture of patience, with its ice fishing and slow-starting vehicles in the winter, but while the rest of the country has become increasingly impatient with Obama and the economic concerns facing the nation, more Minnesotans are, comparatively, giving him the benefit of the doubt.
Overall, Obama's approval rating has fallen at the slowest rate in Minnesota compared to the other 12 states tracked by SurveyUSA. The President's job performance rating has dropped only 17.2 percent since January in the Gopher State, compared to an average of 28.5 percent elsewhere.
In Wisconsin, Obama's approval rating has dropped a whopping 35.7 percent, from a lofty 70 percent in January to 45 percent in August. A similar story has unfolded in Iowa, where the President's approval rating has fallen 33.8 percent, from 68 percent in January to 45 percent in August.
One possible explanation for the more favorable view Minnesotans have of Barack Obama's job performance to date compared to its Upper Midwestern neighbors is that the Gopher State's job situation has somewhat stabilized. Minnesota's unemployment rate is up only 8 percent from January to July (7.5 to 8.1 percent), compared to 28.6 percent in Wisconsin (7.0 to 9.0 percent) and 35.4 percent in Iowa (4.8 to 6.5 percent).
Change in Barack Obama Approval Rating Since January 2009
State

January

August

Change

% Change

Minnesota

64

53

-11

-17.2

California

77

62

-15

-19.5

New Mexico

65

52

-13

-20.0

Oregon

68

54

-14

-20.6

New York

78

58

-20

-25.6

Washington

69

51

-18

-26.1

Missouri

65

48

-17

-26.2

Kansas

62

45

-17

-27.4

Virginia

62

42

-20

-32.3

Alabama

60

40

-20

-33.3

Iowa

68

45

-23

-33.8

Wisconsin

70

45

-25

-35.7

Kentucky

62

36

-26

-41.9

Average

66.9

48.5

-18.4

-27.7
Note: SurveyUSA data compiled by Smart Politics.
The most recent national tracking poll, released today by Rasmussen, finds Obama's approval rating at 45 percent, with 53 percent disapproving.
Follow Smart Politics on Twitter.