Half of Minnesotans Believe Pawlenty Will Be the 2012 GOP Presidential Nominee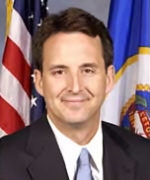 A new Rasmussen poll finds Minnesotans are increasingly of the view that Governor Tim Pawlenty will win the Republican nomination for President in 2012.
Back in mid-May, 37 percent of Minnesota residents believed it was very likely (7 percent) or somewhat likely (30 percent) that Pawlenty would win the GOP nomination in three years. In the new poll, conducted of 500 likely voters on September 15th, that number has increased to 50 percent, with 16 percent now believing it is very likely Pawlenty will emerge as the Republican nominee and 34 percent believing it is somewhat likely.
Only 36 percent believed Pawlenty would not win the nomination, compared to 55 percent in May.
The Rasmussen survey was conducted before the Family Research Council's Value Voters Summit straw poll was conducted this weekend, in which Pawlenty finished third behind Mike Huckabee and Mitt Romney.
There are a few possible explanations as to why Minnesotans believe in greater numbers today that Pawlenty will win the Republican presidential nomination as compared to four months ago.
First, back in May, Pawlenty had not yet announced his decision that he would not seek a third term as Governor. Many Republicans, and some independents, were perhaps reluctant to believe that their Governor would make a run for the Oval Office, and not for reelection in 2010.
Pawlenty's support for his job performance statewide, to be sure, is still solid. The new Rasmussen poll finds Pawlenty with a +13 net job approval rating (56 approving, 43 percent disapproving) – up from +7 in May and up from +1 the last time Rasmussen had asked this type of approval rating question, in November 2006 right before Pawlenty was reelected.
Another reason Minnesotans may find Pawlenty to be a more credible contender for the Republican nomination today is that his "clean-cut image" has distinguished himself from some of his once-rumored 2012 rivals, two of which saw any hope of potential presidential runs end this summer after sex scandals broke (South Carolina Governor Mark Sanford and Nevada Senator John Ensign).
A third reason Pawlenty may seem more 'presidential' to Minnesotans is that he is acting like a candidate – fundraising across the country for other GOPers, and attending high profile events out of state such as the Value Voters Summit this past weekend. In the new Rasmussen poll, 50 percent of Minnesotans said they were very or somewhat concerned about the amount of time Governor Pawlenty was spending outside of Minnesota.
Still, Pawlenty finds himself alongside several prominent ex-governors who populate the high-profile (though hypothetical) 2012 Republican candidate field (e.g. Huckabee, Romney, Sarah Palin). And while half of Minnesotans believe he will be the GOP nominee, winning the White House is yet another hurdle: for the path to the presidency has, to date, proved to be elusive for Minnesota politicians.
Follow Smart Politics on Twitter.