Which States Do Presidents Come From? (Not Minnesota, Yet)
(This report is the first in Smart Politics' 'Pathway to the White House' Series).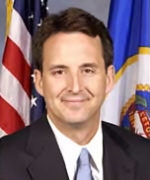 Although Governor Tim Pawlenty is reportedly set to launch a federal political action committee to formally support GOP candidates across the nation, and while half of Minnesotans are already of the view that Pawlenty will be the next Republican Party presidential nominee, the Gopher State is still a long way from hosting a victory celebration for its not-as-yet-announced presidential candidate on the night of November 6, 2012.
While Minnesota has produced two major political party nominees for the presidency in recent history (Democrats Hubert Humphrey in 1968 and Walter Mondale in 1984), the Gopher State has not seen one of its own win the White House to date.
Of course, Minnesota is not alone in this regard. The nation's 43 presidents (counting Grover Cleveland once) have come from just 18 states, with 28 presidents coming from just six states: Ohio, New York, Virginia, Massachusetts, Tennessee, and Texas.
· Ohio leads the way with seven presidents: William Henry Harrison, Ulysses S. Grant, Rutherford B. Hayes, James Garfield, William McKinley, William Howard Taft, and Warren Harding. Strangely, four of the nation's eight presidents who have died in office were from the Buckeye State (Harrison, Garfield, McKinley, and Harding).
· New York has produced the second largest number of presidents at six: Martin Van Buren, Millard Fillmore, Chester Arthur, Grover Cleveland, Teddy Roosevelt, and Franklin Roosevelt.
· Virginia has groomed five presidents, although none in the last 160+ years: George Washington, Thomas Jefferson, James Madison, James Monroe, and John Tyler.
· Four presidents have come from Massachusetts, with three each from Tennessee and Texas.
Although the Upper Midwest has only produced one president (Herbert Hoover, from Iowa) the Greater Midwest has produced 13. In addition to Hoover and the seven presidents from Ohio, two have come from Illinois (Abraham Lincoln, Barack Obama), one from Indiana (Benjamin Harrison), one from Michigan (Gerald Ford), and one from Missouri (Harry S. Truman).
There can be some debate as to what constitutes a 'home state' – 15 presidents were born in one state, but launched their principal (political) career and took up residence in another state (including Obama, George W. Bush, and George H.W. Bush). (Smart Politics utilizes the latter criterion for this analysis).
Home States of United States Presidents
State

#

Presidents

Ohio

7

W. Harrison*, Grant, Hayes, Garfield, McKinley, Taft, Harding

New York

6

Van Buren, Fillmore, Arthur*, Cleveland*, T. Roosevelt, F. Roosevelt

Virginia

5

Washington, Jefferson, Madison, Monroe, Tyler

Massachusetts

4

J. Adams, J.Q. Adams, Coolidge*, Kennedy

Tennessee

3

Jackson*, Polk*, A. Johnson*

Texas

3

L. Johnson, George H.W. Bush*, George W. Bush*

California

2

Nixon, Reagan*

Illinois

2

Lincoln*, Obama*

Pennsylvania

2

Buchanan, Eisenhower

Arkansas

1

Clinton

Georgia

1

Carter

Indiana

1

B. Harrison*

Iowa

1

Hoover

Louisiana

1

Taylor*

Michigan

1

Ford

Missouri

1

Truman

New Hampshire

1

Pierce

New Jersey

1

Wilson*
* Denotes president who was born in another state. Data compiled by Smart Politics.
And as for the losers?
There have been 68 unsuccessful nominees who have carried the popular vote in at least one state in presidential elections.
· Fifteen unsuccessful nominees have come from New York, with five from Massachusetts, and four each from Kentucky and Tennessee.
· Twelve nominees were Presidents who failed to win another term: John Adams (1800), John Quincy Adams (1828), Martin Van Buren (1840), Millard Fillmore (as a Know Nothing in 1856), Grover Cleveland (1888), Benjamin Harrison (1892), Teddy Roosevelt (as a Progressive in 1912), William Taft (1912), Herbert Hoover (1932), Gerald Ford (1976), Jimmy Carter (1980), and George H.W. Bush (1992).
· An additional four unsuccessful nominees would later go on to become President: Thomas Jefferson (1796), Andrew Jackson (1824), William H. Harrison (1836), and Richard Nixon (1960).
Upper Midwestern presidential nominees in particular have had poor showings in presidential elections. Only Iowa (Herbert Hoover) can lay claim to a president as one of its own, out of six different Upper Midwestern presidential nominees to date.
In addition to Hoover's loss to FDR in 1932, Humphrey's loss to Nixon in 1968, and Mondale's defeat to Reagan in 1984, other unsuccessful nominees from the region include Populist James Weaver from Iowa in 1892 (who carried four states), Progressive Robert LaFollette from Wisconsin in 1924 (who carried one state), and Democrat George McGovern from South Dakota in 1972.
In these six defeats, the Upper Midwestern presidential nominees have been completely crushed by their opponents – winning just 10.0 percent of the electoral votes in these elections (315 of 3,120 votes). Even after eliminating the third party candidacies of Weaver and LaFollette from the mix, Hoover, Humphrey, McGovern, and Mondale won just 13.1 percent of the electoral votes in their four defeats (280 of 2,145 votes).
Unsuccessful Presidential Nominees by State
State

#

Nominees

New York

15

Clinton, King, Van Buren, Fillmore, Seymour, Greeley, Tilden, Cleveland, Parker, T. Roosevelt, Hughes, Smith, Wilke, Dewey (x2)

Massachusetts

5

J. Adams*, J.Q. Adams*, Webster, Dukakis, Kerry

Kentucky

4

Clay (x3), Breckenridge

Tennessee

4

Jackson, White, Bell, Gore

Illinois

3

Douglas, Stevenson (x2)

Nebraska

3

Bryan (x3)

Ohio

3

W. Harrison, Taft, Cox

South Carolina

3

Pickney (x2), Thurmond

Arizona

2

Goldwater, McCain

California

2

Frémont, Nixon

Georgia

2

Carter

Iowa

2

Weaver, Hoover

Kansas

2

Landon, Dole

Michigan

2

Cass, Ford

Minnesota

2

Humphrey, Mondale

New Jersey

2

Scott, McClellan

Virginia

2

Jefferson, Floyd

Alabama

1

Wallace

Indiana

1

B. Harrison

Maine

1

Blaine

Maryland

1

Wirt

North Carolina

1

Mangum

Pennsylvania

1

Hancock

South Dakota

1

McGovern

Texas

1

George H.W. Bush

West Virginia

1

Davis

Wisconsin

1

LaFollette
Note: Table includes all unsuccessful presidential nominees who won the popular vote of at least one state. * Not counted in this tally are a) the two presidential elections of 1789 and 1792 in which George Washington essentially ran unopposed, with Adams winning the second most votes to become vice-president in each election, and b) the election of 1820, in which James Monroe ran unopposed, with John Quincy Adams receiving one electoral vote. Data compiled by Smart Politics.
Follow Smart Politics on Twitter.