Former MN GOP Congressman Weber Outlines National Security Challenges Facing President Obama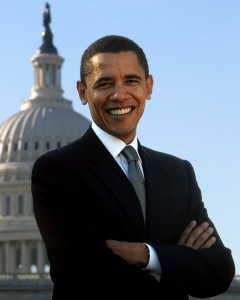 Former six-term Minnesota Republican Congressman Vin Weber spoke at the Humphrey Institute on Thursday afternoon to discuss the burgeoning national security challenges facing President Barack Obama.
Weber says Obama, and most Americans, have intensely focused on domestic policy issues over the past nine months, much like Obama's predecessor George W. Bush, who had intended to concentrate his administration's priorities on domestic issues like health care and education when he first took office.
At first, Weber said, Republicans were comfortable with Obama in light of the national security and foreign policy team he put in place (Defense Secretary Robert Gates, special envoys George Mitchell in the Middle East and Richard Holbrooke in Afghanistan / Pakistan etc.). These selections, "inspired confidence across the board" in conservative circles.
As a result, the initial debates in Washington, D.C. and across the country have been largely centered on Obama's economic, energy, and health care plans.
World events, however, have a way of reshaping presidential agendas.
The terrorist attacks of 2001 caused the legacy of President Bush, who Weber said had "no experience whatsoever" in foreign affairs, to ultimately be judged on his foreign policy record.
So too, according to Weber, will Obama need to shift his focus to engage in several pressing national security concerns, any one of which could come to a head in the next six months – Iran's nuclear weapons program, North Korea's nuclear weapons program, the deterioration of the situation in Iraq as the U.S. scales back its presence, the linkages between Venezuelan President Hugo Chavez, Iran, and terrorism, and the brewing Mexican war between its government and narco-terrorists.
Weber added that while none of these problems are assured to boil over in the immediate future, "The world has been getting more dangerous as we've been arguing about health care."
Weber spent the plurality of his talk discussing what he believes to be the gravest national security concern facing the United States – AfPak, a term used in foreign policy circles to discuss the problems of Afghanistan and Pakistan as an interrelated, single theater of operations.
Weber says that while the election of Barack Obama has improved the public's view of the United States in most nations across the world, public opinion of America has gotten even worse in Pakistan.
Now, as security concerns mount in Afghanistan, Obama is at a crossroads. If he sends the estimated 30,000 to 40,000 troops to Afghanistan that General Stanley McChrystal may request, Weber believes that act would split the Democratic Party, making it harder for Obama to get other agenda items through Congress.
But if Obama opts for a compromise approach, and sends only 15,000-20,000 troops, Weber says Republicans will accuse Obama of underfunding the war by yielding to the left. Weber suggested this might be the worst policy option on the table, as Obama is going to need the GOP to get his national security policies through Congress, in light of a significant number of liberal Democrats unwilling to support continued military action.
And if Obama should start pulling American troops out of Afghanistan in an effort to end the war, as many on the left and a growing number of critics on the right have suggested (e.g. Pat Buchanan, George Will), Weber says, "Things will go very bad, very quickly," with the Taliban likely to take control of a nation that does not have a security force prepared to keep order across the vast nation.
Weber admits, however, that it would be a mistake to underestimate the consequences of the war in Afghanistan simply because it was once viewed as the 'good war' here in the United States. Weber says the mission is not clear and, "The Afghan war is doing us damage in the Muslim world."
The cost is also increasingly taking its toll on American soldiers and their families.
U.S. troop fatalities in Afghanistan are not only higher in 2009 (213) than in any of the previous eight years of the conflict, but several coalition partners have also endured a record number of deaths already this year including the UK (80), Canada (25), Italy (8), Australia (4), Estonia (3), Latvia (2), Turkey (2), and Belgium (1).
Overall, U.S. troop fatalities are on pace to reach 292 in Afghanistan in 2009, up 37 percent from 2008 and greater than the first five wars of the war combined (260). However, that number is likely to go even higher by year's end, as fighting has escalated in recent months to record levels. As of mid-June, the U.S. was on pace for 163 fatalities for the year, but July, August, and September have been the bloodiest three months of the campaign to date.
U.S. and Coalition Military Fatalities in Afghanistan, 2001-2009
Year

USA

UK

Canada

Big 3

All coalition

2001

12

0

0

12

12

2002

49

3

4

56

69

2003

48

0

2

50

57

2004

52

1

1

54

59

2005

99

1

1

101

131

2006

98

39

36

173

191

2007

117

42

30

189

232

2008

155

51

32

238

294

2009*

213

80

25

318

365

2009 projected

292

110

34

436

501

Total

843

217

131

1,191

1,410
* Through September 23, 2009. Source: iCasualties.org.
Follow Smart Politics on Twitter.